TOXIC MARINE POLLUTION
Please use our A-Z INDEX to navigate this site, or see HOME
It has been predicted that by 2050, there would be more plastic in the ocean than fish. You'll not be surprised to learn that the prediction is coming true with many grant funding organizations turning their backs on innovative pollution gladiators with potential solutions. Probably because they clash with existing applications and favored applicants - but that is irrelevant. The fact is, there is as yet no workable solution, even if we turn off the plastic tap today.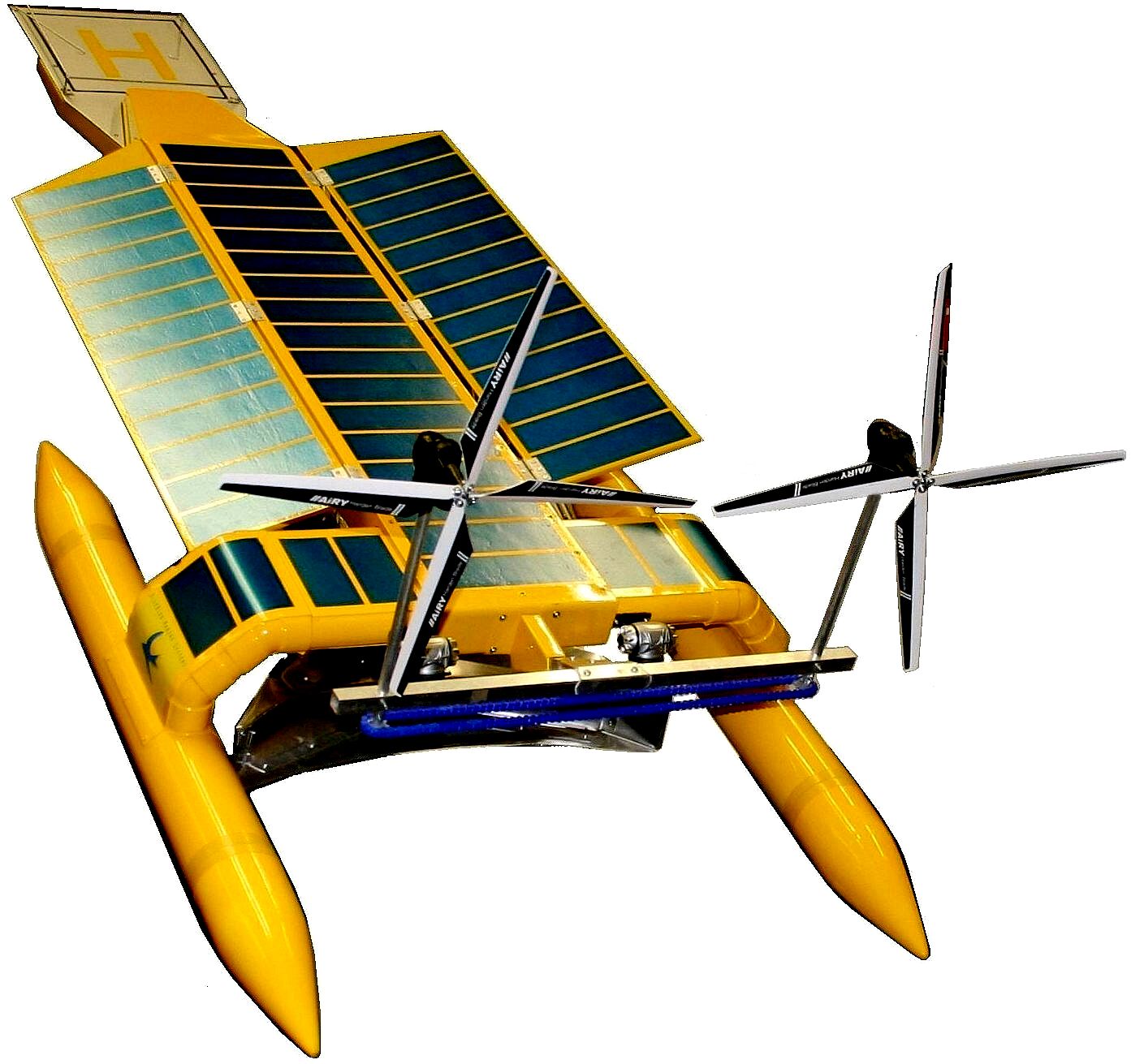 SEAVAX 2015-2020 - A largely crowd funded project (plus volunteers) to produce an ocean cleaning machine, resulted in proofs of concept of the ocean going trimaran seen above and the launch and recovery service machines called Amphimax - in 1:20 scale. The project was cancelled after five years with mounting losses from three costly Horizon 2020 applications, one MarRI application, one Heritage Lottery application, with the UK's Charity Commission, rather oddly, refusing to register the social enterprise as charitable, which undermined any application for funding, alongside Brexit complications, where such applications are only entertained from registered charities. The Commission's decision was puzzling where so many other UK ocean plastic charities exist, hoisting the discrimination flag. For this project they invited a Judicial Review, being untenable of course. Who asks a fledgling not for profit to entertain litigation, where such costs can be staggering. The conclusion was that competing interests somehow came into play. The Commission's agenda is plain. This is an example of institutional resistance, and presumably cronyism, which we say has no place in ocean sustainability politics. It is more of the Board of Longitude, not wanting John Harrison to get the prize. Commonly called, Red Flag Politics. The fact is, that with a 5 year gestation period, SeaVax would by now be a fully working, ocean going prototype at TRL 6-7. That was to 2020. We are now in 2023, meaning most likely, this project would have reached TRL9. The oceans would have seen fleets being deployed at strategic plastic hot spots.
The concept may find other takers with deeper pockets willing to develop the equivalent, possibly partly inspired by the efforts of Bluebird Marine Systems and other projects aiming to clean up marine litter. SeaVax is the only vessel we know of that was designed to deal with ghost fishing net volumes (150tonnes), and micro plastics in autonomous fleets. The RiverVax was smaller, but similar in concept. It is a great shame the vision was not put to the test, while the project had the environmental champions willing to take up the chalice. Today, fleet operations could be even more convenient using green hydrogen based fuels such as methanol, to supplement solar powered water filtration and fish net & rope treatment. As we write, it is still legal to have fishing gear that is not tagged. Microscopic tags used to track fish populations would be a good fit for net tracking and illegal dumping.
Is causing acid oceans from fossil fuel exhausts, melting our ice caps to flood islands all around the world, in some kind of genocidal attack by oil and coal merchants who don't care in the slightest, and pay spin doctors to lie to the public, to buy them more time to profit from the black death they are purveying. What are these climate criminals like, and why are our world leaders allowing them to get away with it?

They are fraudsters. Like the tobacco companies who portrayed smoking as healthy. They also knew what they were doing, causing the deaths of millions with lung cancer.
What is the difference?
This sort of deception must be criminalized.
Billionaires, cannot be allowed to (in effect) murder millions of people, to become personally wealthy. Begging the question as to Wealth Tax, for those profiteering from a dysfunctional political system - and getting away with it. It seems reasonable to suppose, that for every billionaire, there must be a dozen or more corrupt policy makers, hiding behind opaque administrations. Where accountability is shunned.
If we cut out the corruption in politics, we might begin to make headway. Demand 100% transparency. Politicians in positions of trust should be subject to the same anti-money laundering algorithms as drug smugglers and human traffickers. Especially including overseas locations where tax loopholes exist. To wit, procurement fraud, Michelle Mone and the £29 million PPE scandal. Then there is the European Union recently found to be infested. It alls starts at a local level, with Parish Councillors, helping District chums, to gain building consents, which in turn, ends up as party political donations. And then there are the Gongs. The Honours list, for those supporting Heads of State, who have been turning a blind eye to corruption ever since WWII's Universal Declaration, so long as they remained at the top.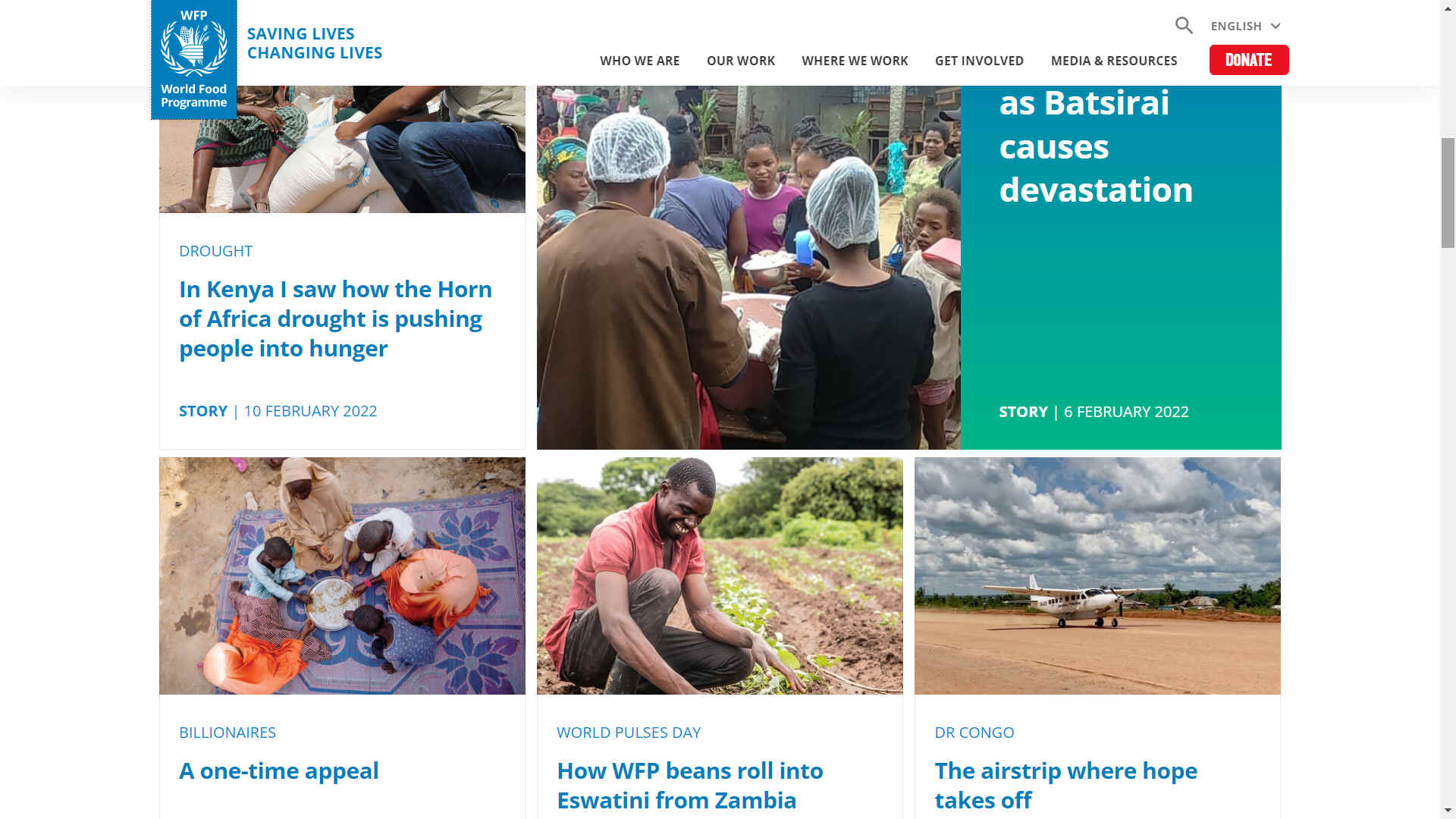 THE GOLD STANDARD - Food should be the new Gold Standard. Planet earth can only grow so much grain and vegetables, produce so many fish and trees, and support so much livestock, sustainably. This should be the new currency upon which the world trades. With paper money that is actually worth something when the chips are down, not just toiler fodder.
TOXIC OCEAN PLASTIC
Potentially more dangerous in terms of ocean conservation and long term food security, plastic in its many forms is invading marine life, to include seabirds, fish and marine mammals. Some shellfish beds are already too dangerous to use for human consumption.
Human health is at risk from carcinogens, with men potentially becoming sterile, like some whales. Mothers too are at risk from seafood toxins, and their babies.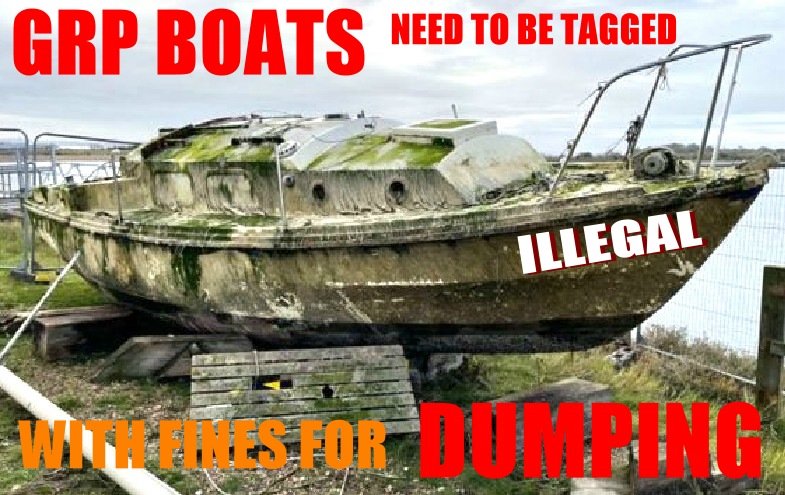 DISPOSABLE - If they have the money to buy a boat or yacht, they have the disposable cash to responsibly recycle or dispose of the toxic waste that glassfibre boats represent. Boats that are dumped illegally break up into microscopic glass strands and plastics, that shellfish and other seafood ingest, working its way up the food chain to humans. So, look at the yachting and boating fraternity with new eyes. Are they registered with a recognised "end-of-life" scrappage scheme. Does your Government give a monkies? If not, elect someone who actually gives a damn. Marinas loaded with gleaming GRP boats, represents death to the ocean, unless properly regulated. Though, boating is a healthy pastime that should be encouraged, and most pleasure craft owners, would want to do the right thing. Once, the dangers of fibreglass is explained. The marine leisure market is good for the economy. Whereas, commercial fishing craft and fishermen, need to know all about GRP when deciding on their next boat. Will it be plastic free?
ABS - BIOMAGNIFICATION - CANCER - CARRIER BAGS - COTTON BUDS - DDT - FISHING NETS - HEAVY METALS
MARINE LITTER - MICROBEADS - MICRO PLASTICS - NYLON - OCEAN GYRES - OCEAN WASTE
PACKAGING - PCBS - PET - PLASTIC - PLASTICS - POLYCARBONATE - POLYSTYRENE - POLYPROPYLENE - POLYTHENE - POPS
PVC - SHOES - SINGLE USE - SOUP - STRAWS - WATER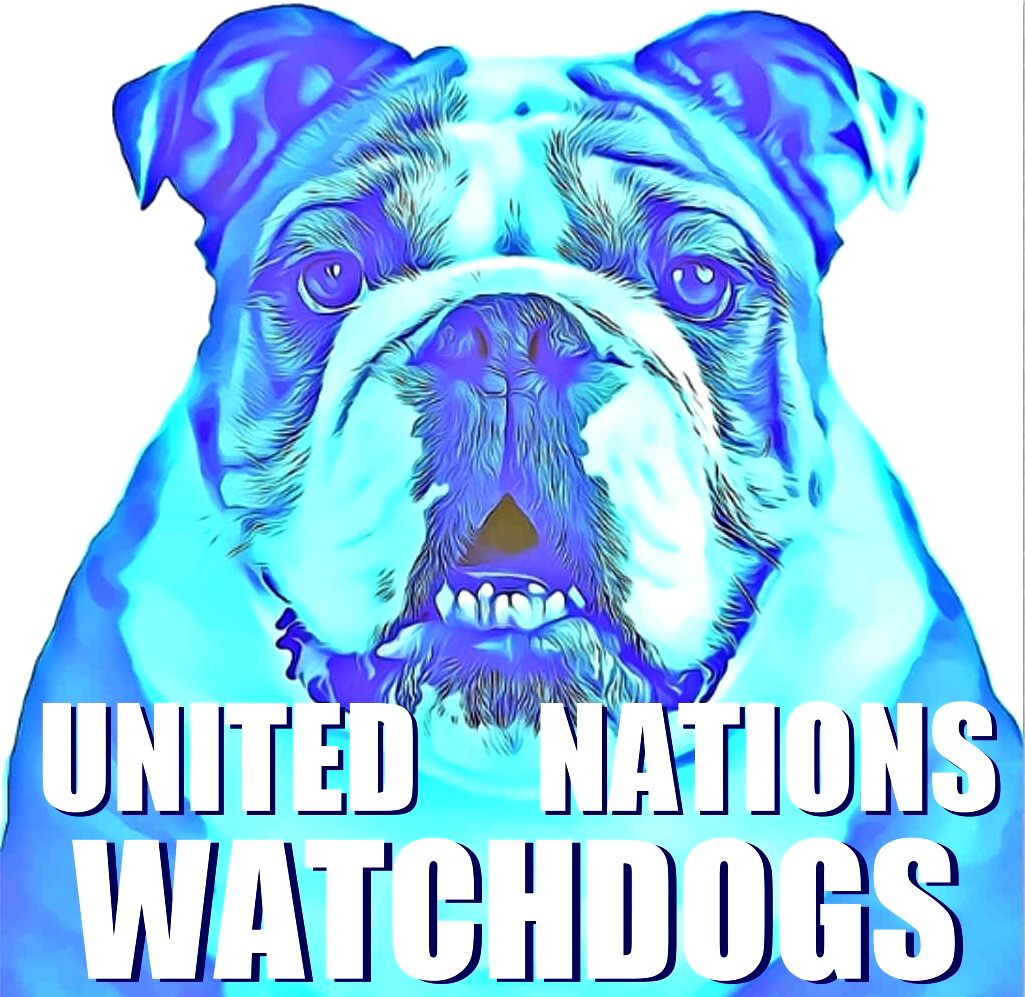 Please use our A-Z INDEX to navigate this site.
This website is Copyright © 2023 Climate Change Trust & Injustice Alliance The views, performance reviews and opinions of the Trust are protected by Articles 18 and 19 of the Universal Declaration of Human Rights.