CARBON NEUTRAL TRANSPORT
Please use our A-Z INDEX to navigate this site, or our HOMEPAGE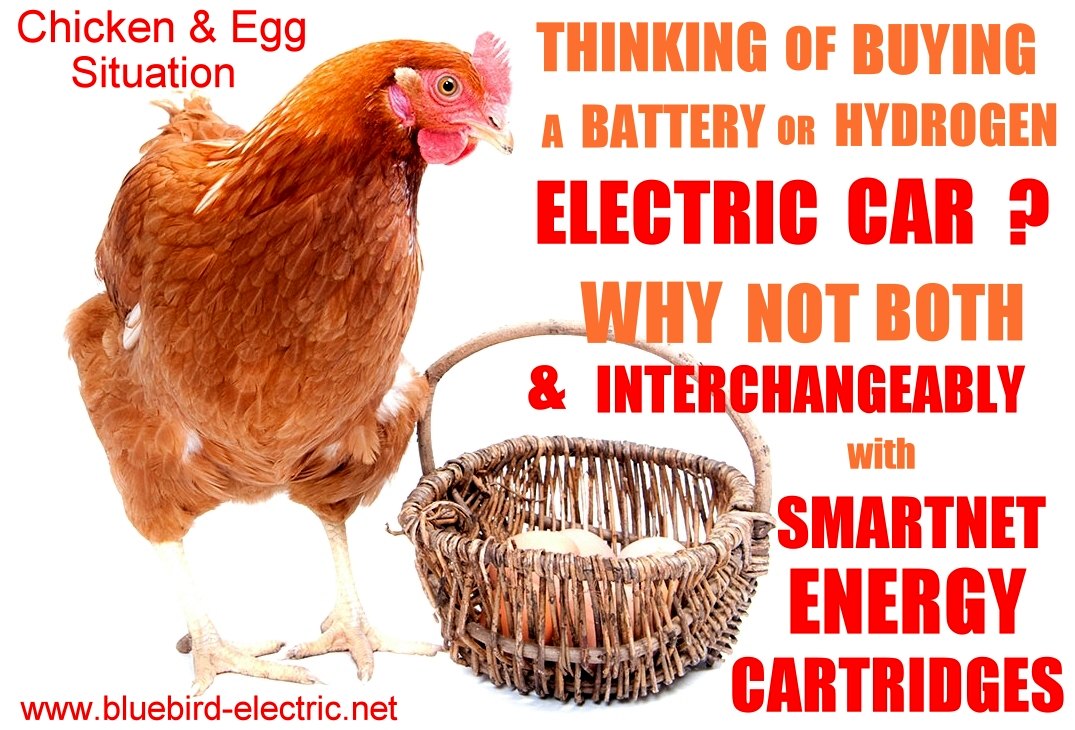 CHICKEN & EGG SITUATION - The reason you cannot buy an electric car that can run on batteries or hydrogen, is that there is not as yet a standard energy cartridge. If there were, we'd still need motor manufacturers to adopt that standard. Then we'd need energy suppliers to provide compatible service stations - in this case for virtually instant refuelling - with load levelling.
Sounds like a mobility dream come true, and it could be with appropriate funding support and collaboration. Using a standardized format, you can drive an electric vehicle on battery or hydrogen cartridges at the push of a button. Your shiny new car will be future proofed - but only if the car you buy is SMARTNET ready.
The UK is leading the charge with the Automated and Electric Vehicle Act 2018 - thanks to Chris Grayling and Baroness Sugg - in recognizing the issue and making it law to provide recharging/refuelling, there is hope for zero carbon electrification.
Transport is necessary to move people and goods around Planet A. So long as it is carbon neutral we can afford travel. We have the technology today for such infrastructure and vehicles. What is missing is the political and industrial incentives to change, despite the fact that there is no Planet B. It is the climate criminals that are holding up progress, clinging to dirty black coal, because it is seems cheaper - but is actually more expensive in the damage it is doing to our ecology.
The most pressing issue is the lack of an energy storage and transfer system to be able to replace IC cars and trucks. The present system of funding should be overhauled to allow those who are keen to develop new technology to do so before they lose interest in the subject and are no longer EV champions. Civil servants appear not to appreciate that in order to get cutting edge technology developed, monies should not be aimed at the establishment where there is a potential conflict of interest, but at those who are challenging the status quo and looking for radical changes, where civil servants and politicians do not like radical solutions. They like a nice gentle ride to be able to profit from the existing gas guzzlers.
In 1995 the UK Department of Trade and Industry (SMART Awards) refused to seed fund an energy storage system based on cartridges, saying that there was no future for batteries in electric vehicles. Is it no wonder that we are now heading from the Holocene Age into the Anthropocene Age - full speed ahead.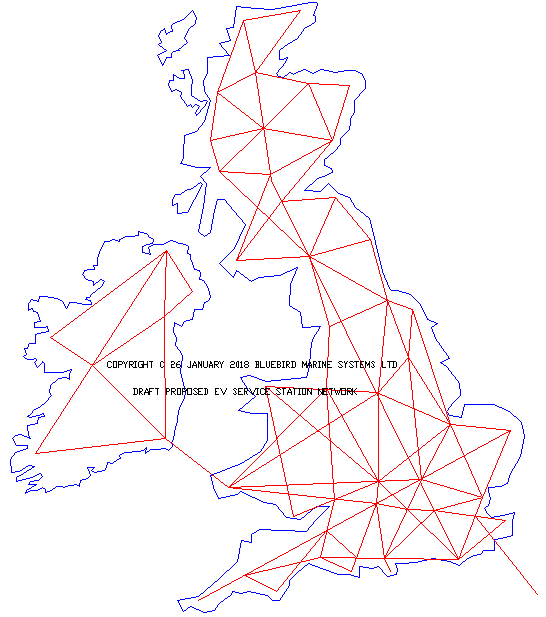 UK MAP - Draft infrastructure networked grid for the UK to kick-start EV service station building, aiming for a low carbon society that is sustainable and climate friendly by 2050 to comply with the targets set by the Climate Change Act 2008. This map is simplified and includes the Republic of Ireland for practical reasons. Supplied by and used with permission of Bluebird Marine Systems Ltd. If we use just the intersections as likely locations that would mean installing 60+ stations, that could recharge more than the 14,000 charge points in the UK as of January of 2018. Another 1,800 such stations at strategic locations could service all 25,000,000 million vehicles in the United Kingdom. Optimistic, but you have to start somewhere when conceptualizing.
LACKLUSTER PERFORMANCES - All very honourable, but very little action. Sad to say we've had a bevy of well intentioned Secretaries of State, but nothing to show for it in terms of planning for change. The present SOS is the Rt Hon Chris Grayling MP. Previous holders of the post include: The Rt Hon Sir Patrick McLoughlin MP - 2012 to 2016, The Rt Hon Justine Greening MP - 2011 to 2012 and The Rt Hon Philip Hammond MP - 2010 to 2011. The point here is that none of the above have been able to stem the tide of potholes in our roads. How then might we expect them to conquer technological change, if they can't arrange for tarmac to be tipped into holes and rolled smooth. There have been chimpanzees with the intelligence required to fill a hole in a road, but only humans have the ability to solve complex conceptual problems.
CLIMATE ACTION PLAN (CAP)
Like many other countries, the UK (as a lead example) needs a Climate Action Plan to provide energy for 25 million low carbon vehicles before 2050. This Climate Action Plan (CAP), must mesh with house building of necessity for a SMART solution. A Circular Economy must be built on sound economics, based on reliable statistics.
At the moment there is no Energy Committee, telling us that British politicians do not seem to have made the connection between energy and transport. The Trust, in association with the Foundation, have been lobbying UK politicians, including the Prime Minister, on this subject.
If the average driver in the UK travels 10,000 miles per year and let us suppose (for example) that this person operated a BMW i3, they will need to charge up 125 times in a year x 20kW = 2,500 kW (2.5Mw). Multiply this by 10 million vehicles (under half the 25 million licensed vehicles) and we are going to need a whole lot of load leveling, or sharing, or something in between. Where 10 million x 2.5Mw = 25 million Mw (25 Terawatts). 25TWh is not a lot compared to the overall UK energy use in 2014. We use 2014 as a bench mark where 2017 information is not sufficiently freely available at time of writing (January 2019).
EV EFFICIENCY
Electric vehicle efficiency is considerably higher than IC vehicles to begin with, and so is the supply chain, and only EVs can use clean renewable energy as electrical energy. If we used 100TWh to cover all of our transport needs in the UK, that would represent an enormous saving in our energy bill, help to pay off our debts and reduce carbon output all at the same time.
Electric cars should last longer than IC, with fewer moving parts. The i3 is mostly composite and aluminium, so that rusting may not be a problem. This could mean that manufacturing for transport also sees an energy reduction - benefiting climate change reductions and sustainability.
CURRENT ELECTRICITY USAGE
Energy use in the United Kingdom stood at 2,249 TWh (193.4 million tonnes of oil equivalent) in 2014. This equates to energy consumption per capita of 34.82 MWh (3.00 tonnes of oil equivalent) compared to a 2010 world average of 21.54 MWh (1.85 tonnes of oil equivalent). Demand for electricity in 2014 was 34.42GW on average (301.7TWh over the year) coming from a total electricity generation capacity of 335.0TWh.
Britain's trade deficit was reduced by 8% due to substantial cuts in energy imports. Between 2007 and 2015, the UK's peak electrical demand fell from 61.5 GW to 52.7.GW.

As recently as 2004, the UK was a net exporter of energy. By 2010, more than 25% of UK energy was imported. With the high cost of importing, we should be concentrating on building our domestic renewables capacity. Some of this could be achieved, or offset, with mico and macro generation.
ON STREET CHARGING - If we are to provide enough charging points to cope with an all electric 2040, we will need to install around 280,000 units per year for the next 22 years. That is 767 charging points a day, based on the assumption that one in four cars will be charging at any one time in 2040 and not the full Mont. There will not be a charging point for every car, but realistically, we are never going to install 767 stations every day.
An alternative scenario and possibly more economically sound option, may be to build EV service stations alongside the charging points, until motor manufacturers catch up with the move to a load-leveling system as may be achieved with energy stored in convenient cartridges.
HOW MANY TO DATE - Currently there are 14,000 electric chargers in the UK (for 125,000 plug-in vehicles). 2,620 of the 14,000 offer fast charging - giving at least 80 per cent of a full battery in 30 minutes. Not bad, but if all petrol cars are being banned in 22 years time, surely we need a phased in approach to cope with the other 25,000,000 million users.

TREND - Sales of electric vehicles in the UK surged by 35 per cent in 2017 as diesel car sales continued to plummet.
PETROL STATIONS - The number of petrol filling stations had dropped considerably. In 1970 there were 37,539 petrol stations in the UK but by 2012 the number had fallen dramatically by 75 per cent to 8,677.
The number of petrol station sites in the United Kingdom (UK) from 2000 to 2016 had fallen since by over 34 percent. 2013 is the only year of the fifteen recorded which shows an increase on the previous year's number. In 2013, approximately 34 percent of petrol stations operated on a 24 hour basis. BP operated the greatest number of forecourts. BP, ESSO, and Shell combined operated more than 1,000 sites. The supermarket-owned petrol stations operated more than 500 forecourts.

Owning fewer forecourts, the supermarket retailers sold a greater volume of fuel @ 44 percent of fuel sold in the UK. With petrol and diesel cars using less fuel for the same distance traveled, petrol stations will become less profitable. As EVs increase in numbers it is likely that fossil fuel sellers will move into the electrical supply business, or lose out on that opportunity. This is where flatpack EV stations that load-level could become attractive.
At the moment there are not enough EVs on British roads to make it worthwhile operating dedicated service stations. For this reason charging points are needed to sow the seeds of an embryonic market.
MORE ON PETROL - The USA had 114,474 filling stations (gas stations) in 2012, according to the U.S. Census Bureau, down from 118,756 in 2007 and 121,446 in 2002.

In Canada as of December 2008, 12,684 were in operation, significantly down from about 20,000 stations recorded in 1989.

Japanese numbers dropped from a peak of 60,421 in 1994 to 40,357 at the end of 2009, meaning that they use a lot of fuel per person.

In Germany, petrol stations dropped down to 14,300 in 2011.

In China, according to different reports, the number (year 2009) is about 95,000 to 97,000.

India – 56,190 (March, 2016).

Russia – there were about 25,000 gas stations in the Russian Federation in 2011.

In Argentina in 2014 there were 3,916 gas stations after a 2% decrease from the previous year.

UK TRANSPORT STATS - The number of cars on England's roads increased by almost 600,000 in one year. The figures for 2015 showed there were 25.8 million licensed cars in the third quarter of 2015 compared with 25.2 million in the same period of 2014.
Since 2011, the number has increased by about 1.6 million in England, 142,000 in Scotland and 69,000 in Wales. The largest rise has been in south-east England, with 373,200 more cars over five years. The Society of Motor Manufacturers and Traders said there had been 2.63 million new cars made during 2015, a 6.3% rise on the year before.

SMART SERVICE STATIONS - Seen above is a concept 7.68 - 15.36MW solar assisted service station containing 48-96 cartridges on a continuous charge cycle. Five of these stations (76.8MW) could recharge (refuel) up to 10 trucks or cars a minute at peak times. Next time you visit your petrol station or supermarket fuel pump, count the number of cars leaving the station in a minute. You will find that an electric forecourt holds the potential to be quicker.
During rush hour, up to 300 vehicles might be serviced in one hour if drivers don't dawdle, as in get out of their vehicles - there is no need using automated billing - but this would require registered users. The truck shown here is 3.55 wide x 3.5 high x 7.7M long (8 x 11.5 x 25 feet). This station could accommodate trucks 4.46M (14.77 feet) high as shown, or with a raised roof, almost any truck currently on the market - though longer thinner trucks are more fuel efficient.
During an eight hour day 2,400 trucks might be serviced using five forecourts on the assumption that we start every morning with 96 x 5 = 480 slow charged cartridges from off-peak supplies. The same forecourt might be used to service fuel-cell cars powered by stabilized hydrogen. One size fits all. The secret is to KISS the design (Keep It Simple Silly). There are only 28* moving parts in this station, not including the gearbox for the solar powered drive motor. This is possible because with this system the vehicles load the cartridges themselves. Learn more about this concept.
ELECTRIC VEHICLES - In cities we already have an electric society to all intents save for heating and vehicles. The increase in popularity of electric vehicles is likely to tip the balance in favour of a cleaner society, provided that we install a practical infrastructure to enable on street and other charging systems. We predict that EV service stations will eventually take over from petrol/diesel and natural gas forecourts, as trucks become a viable proposition for freight hauliers. The latest E trucks from entrepreneur Elon Musk (Tesla) may help to pave the way to a clean transport system of the future.
SOLAR POWERED RICKSHAWS
In major cities of India there are petrol and diesel powered three-wheelers called auto-rickshaws. They are some of the most polluting vehicles on Indian roads. They usually run on 2 stroke engines which are inherently more polluting than the regular 4 stroke engine. Data collected reveals that in traffic conditions prevalent in most inner city areas, these auto-rickshaws run only at 15-20 km/hr speed thereby producing even more pollution since they are designed to run efficiently at 40-45 km/hr. The pollution is further compounded by the fact that they continuously have to run in stop/start mode.
On an average auto-rickshaws travel about 50-60 km during a day. Based upon this data it was felt that an electric rickshaw designed to run 60-80 km per charge at speeds of between 25-40 km/hr would be an excellent substitute for these IC powered auto-rickshaws. In a fair weather country like India, a silent and non polluting electric rickshaw with the above attributes could be a boon. China is also a booming transport region that could stem the imports of petroleum by adopting light-weight electric sports vehicles that are at least solar assisted.
SHIPPING, OCEAN TRANSPORT
Despite the fact that ships are an efficient means of transport, compared to other modes of transportation, the merchant fleet still has yearly carbon dioxide emissions equal to that of 130 million to 195 million cars. On the flip side they carry more cargo than trucks and vans but there is room for significant improvements in emission reduction.
The reality of the situation is that the shipping industry has a massive pollution problem. To power their back-and-forth trips across the seas, cargo vessels burn huge amounts of fossil fuels, so release vast volumes of greenhouse gases. Just one Capesize bulk carrier may use 10,400 tons of bunker fuel per year. Multiply that by the 90,000 cargo vessels currently traversing the oceans and the figure hits around 250 million tons of fuel burned annually. This accounts for about 4 percent of anthropogenic carbon dioxide emissions. Researchers have also linked this pollution to around $330 billion in heath costs in heart and lung disease annually.

Marine transport is increasing as the global economy looks to cheaper ways to move goods. Inevitably this has and will lead to more pollution from dirty marine diesel engines. With the need to clean up their act, shipbuilders all over the world are looking at ways of cutting sulphurous exhaust emissions (leading to acid rain), or otherwise reducing their energy bills. The quest for efficient shipping is taking many forms, some of which are rejected at the moment because of the potential to disrupt cozy shipping methods. Unfortunately, the only way to really clean up the oceans is to be radical and radical = disruptive, which no industry takes kindly to. The digital camera was disruptive to companies making film for cameras; inevitable, but disruptive. Those firms that just carried on making film went out of business. They became extinct, which could happen to the human race if we don't adapt. Those that adapted quickly, took new market leaderships. The same thing is about to happen to shipbuilding all over the world.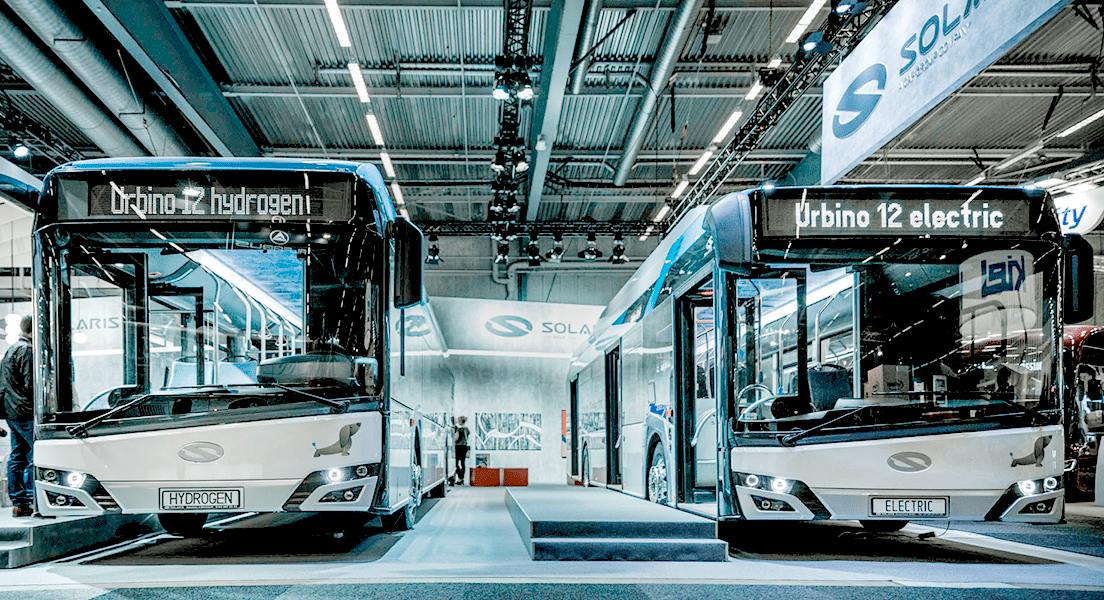 It is ironic that the first vessel thought to be suitable for solar power is an oil tanker. An engineer working for Bluebird Marine Systems (recently dissolved) carried out a provisional study and calculated that diesel engines are not needed to propel a medium size tanker, provided that the correct mix of energy capture devices are combined with a hybrid hull design.
Let us take as an example of a small oil tanker of 12,000 gross tons [8200 long tons cargo], 585ft (178m) with a 74ft (22m) beam and a maximum speed of 11 kts. The estimated fuel consumption is 350 gallons per hour of red diesel consumed at 11 kts. The diesel engines for this example are 2 x 4600 horsepower (9200hp = 6860kw). 350 x 24 = 8,400 gallons of fuel a day x $1.714 per gallon ($72 per barrel =42 gallons) equals $14,396 a day. That's a lot of money and a lot of air pollution from a relatively small tanker. This ship with its present hull design is not suitable for conversion to solar power. The hull is not efficient enough, but we can at least see the scale of the problem.
The size of a vessel and the speed it runs at determines the amount of fuel that is used in making a voyage. These are significant factors in deciding how fast the ship should steam. Though that, in turn, is controlled by how urgent the cargo is needed at the time. For example in 2007 spot rates for tanker hire per day went from $30,000 a day to $300,000, but more recently have fallen steadily.
According to Devanney VLCC, tankers move at between 12.5 knots (50% power) and 18 knots, at the higher speed increasing fuel demand may reach up to 800 barrels of fuel oil a day. Once we get to 12.5/14 knots, we note that by speeding up another half knot, we can save 1.53 days at a cost of $63,000. This is a good idea if and only if we can earn $44,000 per day or better with the days saved. The 12.5/14 knot selection refers to the difference in speeds between running loaded and when in ballast (i.e. empty). Now imagine that you can save the $63,000 dollars a day, by not having any fuel bill?
EMPTY SUPERTANKERS

An empty supertanker burns about 90 metric tons of fuel, known as bunkers, a day when traveling at 14 knots, according to Riverlake Shipping SA, a broker in Geneva. Hamilton, Bermuda- based Frontline, the world's second biggest supertanker operator, can cut that to about 25 tons when sailing at 10 knots on the empty leg of a journey, said Jens Martin Jensen, chief executive of the company's management unit in Singapore. That means saving about $42,000 a day at the global average price. As we say, imagine not having that fuel bill.
Let us take $45,000 dollars as the average fuel/day cost. That is $16.2 million a year. Multiply that by the average 10 year lifespan of a tanker, and that is more than the cost of the tanker: $160 million dollars. This is surely a solid case for oil tankers powered by nature - while we are waiting for electric cars and houses that are virtually energy self-sufficient.
THE G20 HEADS OF STATE (2020) A - Z
| | | | | |
| --- | --- | --- | --- | --- |
| ARGENTINA | AUSTRALIA | BRAZIL | CANADA | CHINA |
| EUROPEAN UNION | FRANCE | GERMANY | INDIA | INDONESIA |
| ITALY | JAPAN | MEXICO | RUSSIA | SAUDI ARABIA |
| SOUTH AFRICA | SOUTH KOREA | TURKEY | UNITED KINGDOM | UNITED STATES |
SIX (SUGGESTED) STEPS TOWARD A COOLER PLANET
1. TRANSPORT: Phase out polluting vehicles. Governments aim to end the sale of new petrol, and diesel vehicles by 2040 but have no infrastructure plan to support such ambition. Such infrastructure should exceed the performance of fossil fuel filling stations, prolong EV battery life and provide power grids with a measure of load leveling. Any such system should seek to obviate the provision of millions of fast charge points to include fuel cell cars, where implementation could otherwise prove to be a logistical nightmare. This may involve international agreement as to energy storage format and statute to steer OEM vehicle makers to collaborate as to future proofing, to include green hydrogen.
Marine transport can be carbon neutral given the right policy incentives, with phased transition in specific stages such as not to unduly penalize present investment in LNG shipping and other recent MARPOL compliant IC powered vessels. Future cargo vessel should be at least in part powered by renewable solar and/or wind energy, on the road to zero carbon, making allowances for technology catch-up. A scrappage scheme might encourage fleet operators to accelerate shipping upgrades, and a fund for radical innovation that would not otherwise qualify under in-situ programmes (such as Horizon Europe) might be introduced - with fast-track, reduced, form-filling and open-loop decision making, such that applications may be tweaked rather than struck out.
Air travel powered by kerosene should attract hefty mitigation offset, where low carbon alternatives should be encouraged such as electric air transport.
2. RENEWABLES: Renewable energy should replace carbon-based fuels (coal, oil and gas) in our electricity for homes, factories, heating and transport. Coal and nuclear power plants should be phased out.
3. HOUSING: On site micro or macro generation is the best option, starting with new build homes that are both affordable and sustainable by design to replace crumbling housing stocks. Encourage building in timber to provide carbon lock from a renewable natural resource. Planning policies should be updated to outlaw unsustainable development, with harsh financial penalties for kleptocratic local authorities, especially those with a history of corrupt practices (from historic similar fact evidence files).
4. AGRICULTURE: We need to grow more trees to absorb carbon emissions from a growing population, unregulated/unrestricted air travel. New homes should be timber where practical as a priority. We should promote reductions in food waste and the eating of foods that use less energy to produce. Educate children on these matters in schools and via campaigns such as no meat Mondays, should be part of ordinary study. Polluted fish from fisheries, might be replaced with fish farmed by aquaculture inland, rather than risk carcinogens from our seas.
5. INDUSTRY: Factories should be aiming for solar heating and onsite renewable energy generation. EV parking and even service facilities should be part of new industrial estates as part of any building permissions - with subsidies or tax reductions as incentives to property developers.
6. POLITICS: - National governing bodies need to adopt rules to eliminate administrative wastages, to include scaling down spending on (showboat) war machines, increasing spend on educating the public and supporting sustainable social policies that mesh with other cultures. This includes fostering policies and making funds available to close links in the technology chain to make up for lost time. Kleptocratic empire building must cease in the search for natural equilibrium.
International aid should not be provided to regions that cannot support life naturally. Land reclamation should be outlawed, and a solid currency system based on the ability of the planet to provide food for a growing population, such as a $Food Standard, such as to index link food production (security) to prevent unrestricted (artificial) money lending and superheated economies. There should be a policies of zero trust and full accountability.
Taxes collected from citizens in any form should only be spent on services they are collected for. Road Fund Licences, for road building, National Health Insurance Contributions, for health facilities, etc. The spend of other taxes such as Income and Value Added, should be fully accounted for to prevent slush fund payouts, for defence contracts, for example.
All policies should be SDG and Human Rights compliant, with exceptions needing to be openly qualified and justified, with effective remedy (right of challenge) to a higher national tribunal/court at every level, and to the international court of justice, where a national remedy conflicts. A lack of transparency and accountability would be one of the main reasons for challenge - because such decision making is highly suspect.
LINKS & REFERENCE
https://www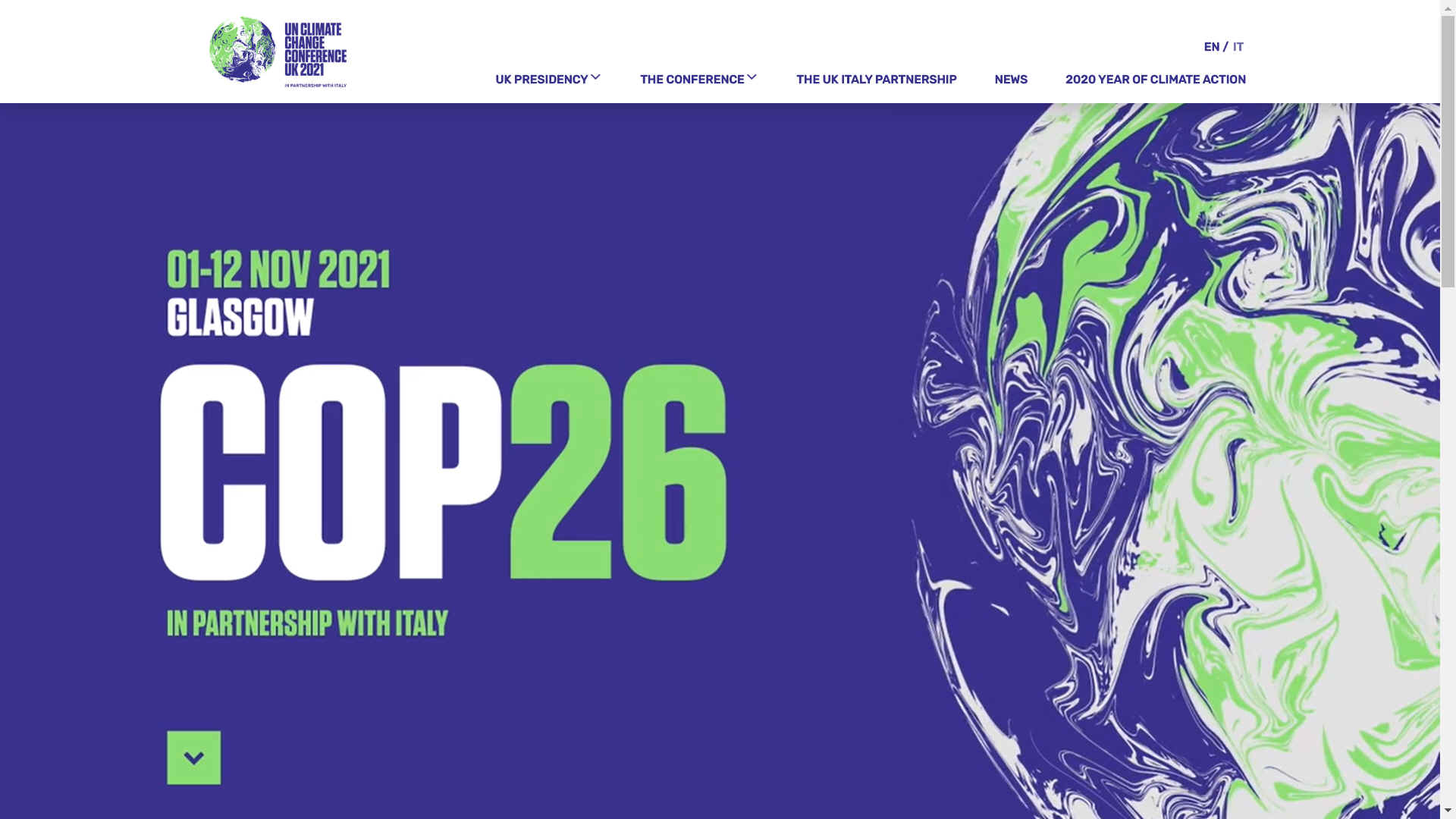 2020 - Was another year of non-action, in fact no talks at all for the big cheeses to squabble and cloud issues for all the smaller nations that are being exploited. Can we expect anything of value to come out of the 2021 Highland fling?
Interestingly, the Covid 19 pandemic may have the effect of braking the economies of many nations - hence slowing global warming. This should be a lesson to all politicians.
AGRICULTURE | BANKS | HOUSING | GROUP20 | INDUSTRY | MONEY | POLITICS | RENEWABLES | TRANSPORT
This website is provided on a free basis as a public information service. Copyright © Climate Change Trust 2021