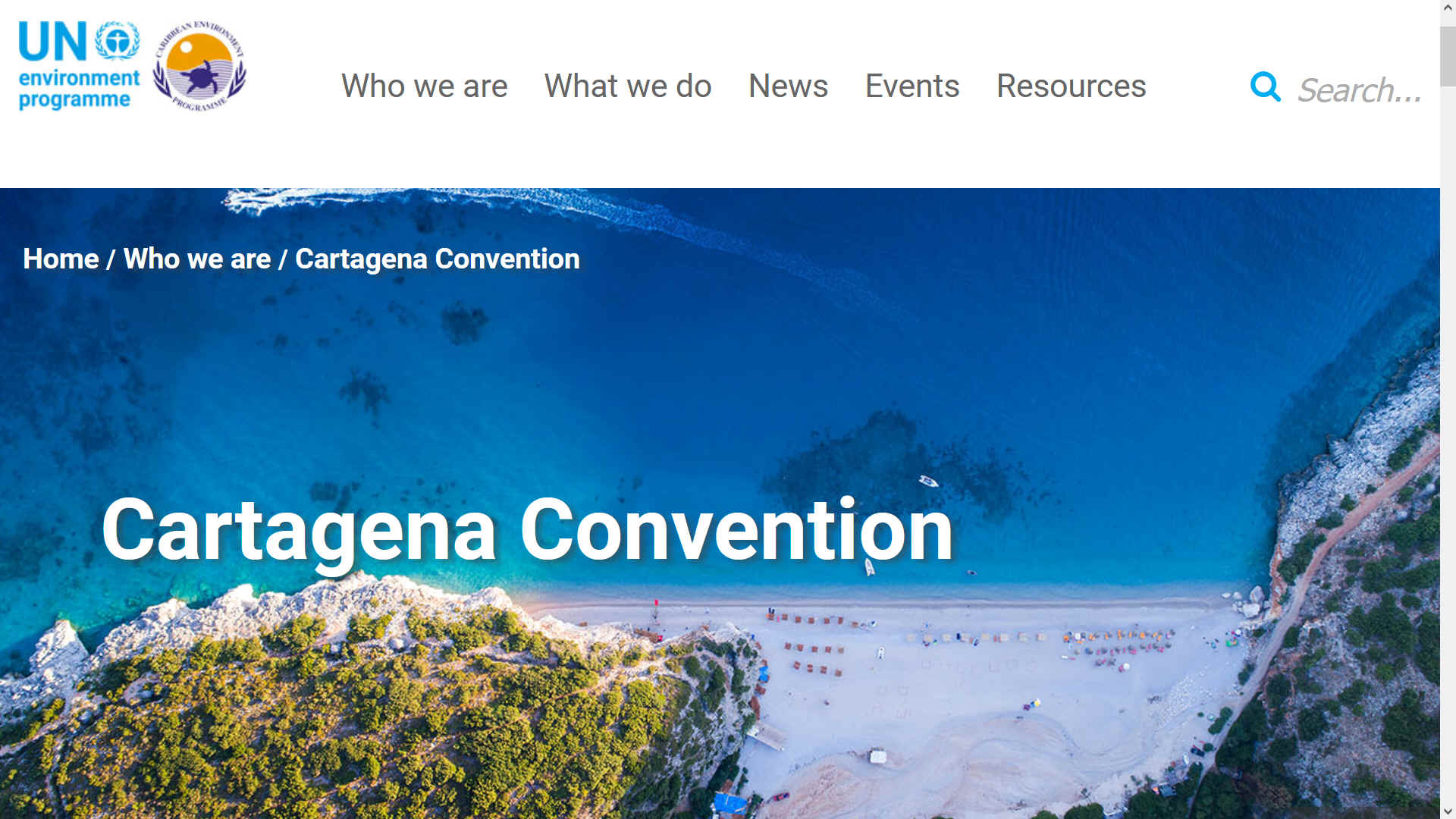 What is the Cartagena Convention?

The Convention for the Protection and Development of the Marine Environment in the Wider Caribbean Region (WCR) or Cartagena Convention is a regional legal agreement for the protection of the Caribbean Sea.

The Convention was adopted in Cartagena, Colombia on 24 March 1983 and entered into force on 11 October 1986.

The Convention is supported by three technical agreements or Protocols on Oil Spills, Specially Protected Areas and Wildlife (SPAW) and Land Based Sources of Marine Pollution (LBS).

The Protocol Concerning Co-operation in Combating Oil Spills in the Wider Caribbean Region was adopted in 1983 and entered into force on 11 October 1986.
The Protocol Concerning Specially Protected Areas and Wildlife (SPAW) in the Wider Caribbean Region was adopted on 18 January 1990 and entered into force on 18 June 2000.
The Protocol Concerning Pollution from Land-Based Sources and Activities was adopted on 6 October 1999 and entered into force on 13 August 2010.

The Regional Coordinating Unit (UNEP-CAR/RCU) was established in 1986 in Kingston, Jamaica and is the Secretariat to the Cartagena Convention and its Protocols.


What are Regional Activity Centres?

Each Protocol of the Cartagena Convention is served by one or more Regional Activity Centres (RACs). These centres are based in:

- Curacao (Regional Marine Pollution Emergency Information and Training Centre for the Wider Caribbean, RAC REMPEITC Caribe) for the Oil Spills Protocol;
- Guadeloupe (SPAW-RAC) for the Marine Biodiversity or SPAW Protocol;
- Cuba (Centre of Engineering and Environmental Management of Coasts and Bays) for the Pollution or LBS Protocol;
- Trinidad and Tobago (Institute of Marine Affairs), also for the Pollution or LBS Protocol.


These centres provide technical support and expertise to assist Contracting Parties in meeting their obligations to the Convention and its Protocols. Other regional agencies provide additional technical assistance as part of a Regional Activity Network (RAN).


What does the Cartagena Convention focus on?

The Convention covers several aspects of marine pollution for which the Contracting Parties must adopt specific measures. These measures include to prevent, reduce and control:

- pollution from ships
- pollution caused by dumping
- pollution from sea-bed activities
- airborne pollution
- pollution from land-based sources and activities

Countries who are Contracting Parties to the Convention are also required to:

protect and preserve rare or fragile ecosystems and habitats of depleted, threatened or endangered species; and
develop technical and other guidelines for the planning and environmental impact assessments of important development projects.


Cartagena Convention and Global Environmental Agreements

The Cartagena Convention works in support of other global environmental conventions, agreements and commitments such as:

UN Environment Agreements

- Convention on Biological Diversity (CBD)
- Convention on Migratory Species (CMS)
- RAMSAR Convention on Wetlands
- Convention on International Trade in Endangered Species (CITES)
- Stockholm Convention on chemicals management
- Basel Convention on hazardous waste

International Maritime Organization (IMO) Agreements

- MARPOL Convention on ship-generated wastes
- Ballast Water Convention
- London Convention

Global Agreements and Commitments

- Agenda 21
- Barbados Small Island Developing States (SIDS) Programme of Action
- Johannesburg Plan of Implementation (JPOI)
- RIO + 20
- Samoa Outcome for Small Island Developing States (SIDS)
- Global Programme of Action for the Protection of the Marine Environment from Land-Based Activities (GPA)
- Sustainable Development Goals (SDGs)

* Notably, signatories do not include the European Union or European Commission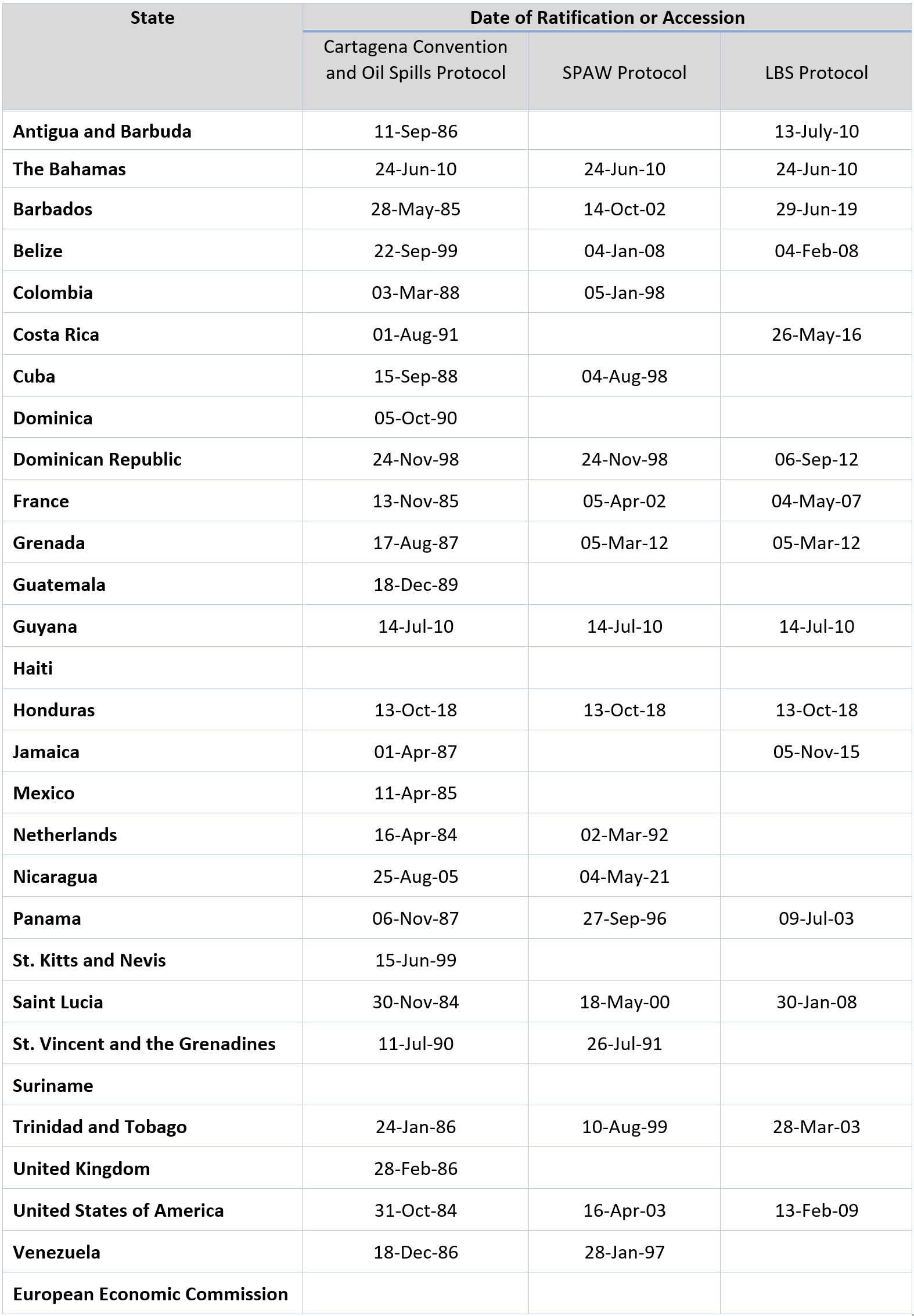 AFFECTED CARIBBEAN ISLANDS BY POPULATION
Cuba 11,252,999
Haiti 11,263,077 (Hispaniola)
Dominican Republic 10,766,998 (Hispaniola)
Puerto Rico (US) 3,508,000
Jamaica 2,729,000
Trinidad and Tobago 1,357,000
Guadeloupe (France) 405,000
Martinique (France) 383,000
Bahamas 379,000
Barbados 283,000
Saint Lucia 172,000
Curaçao (Netherlands) 157,000
Aruba (Netherlands) 110,000
Saint Vincent and the Grenadines 110,000
United States Virgin Islands 105,000
Grenada 104,000
Antigua and Barbuda 89,000
Dominica 71,000
Cayman Islands (UK) 59,000
Saint Kitts and Nevis 46,000
Sint Maarten (Netherlands) 39,000
Turks and Caicos Islands (UK) 37,000
Saint Martin (France) 36,000
British Virgin Islands (UK) 31,000
Caribbean Netherlands 26,000
Anguilla (UK) 14,000
Saint Barthélemy (France) 10,000
Montserrat (UK) 5,000
Tortuga 25,936
Roatán 110,000
Environmental work includes looking at marine litter and plastic as is spread throughout the Pacific Ocean, Indian Ocean, Atlantic Ocean, Mediterranean Sea and Caribbean Sea, but not actually collecting or processing waste operationally.
Plastic waste though is on the increase. Mainly because there are no major cleanup operations, or funding to develop any effective means of filtering micro and macro plastics from seawater.
Then, there are ghost fishing nets. Again, there is no official programme for dealing with offending fishermen, or for collecting discarded nets. Recovery is reliant on small organizations and volunteers, who only recover the occasional net.
Another important issue is the sargassum proliferating in the Sargasso Sea, then finding its way to the Gulf of Mexico and Caribbean Islands, where it ruins the local economy and ecology. Recovered seaweed could be useful for:
BIOMASS - BUILDING MATERIALS - CANCER - CLOTHING & SHOES - CO2 SEQUESTRATION - COSMETICS
FERTILIZERS - FOODS - MEDICINES - MINERALS - PACKAGING - SUPPLEMENTS - VITAMINS
'UNEP' is the United Nations Environment Programme. Their mission is to provide leadership and encourage partnership in caring for the environment by inspiring, informing, and enabling nations and peoples to improve their quality of life without compromising that of future generations. In our view leadership equals actions. Doing not talking about doing. The difference between having an idea, and doing it - is doing it. Anyone can talk about doing things and encourage other people to take risks and think creatively, but few step into the arena and act on their ideas - putting their time and money where their mouths are.