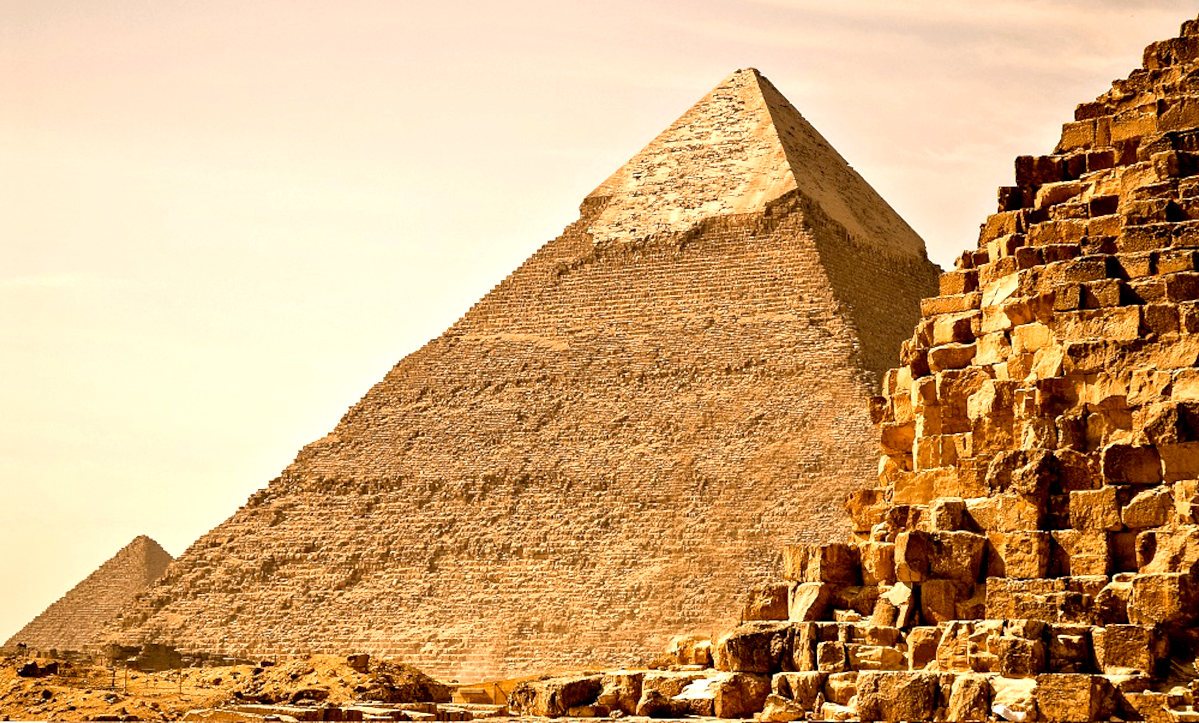 Amongst the pyramid complex may be found the pyramids of Pharaohs Khufu, Khafre and Menkaure. The largest pyramid in Giza – and the world – belongs to the second king of the Fourth Dynasty, Khufu or "Cheops".

Khufu's pyramid is Giza's oldest and, at its great size of 145 metres, became known as "The Great Pyramid". Khufu's pyramid was once the tallest structure in the world, as well as being one of the Seven Wonders of the World.

The second largest pyramid in Giza belongs to Khufu's son and fourth king of the Fourth Dynasty, Khafre (or Khephren). The elevation on which Khafre's pyramid is built is deceptive however, making it appear larger that his father's.

The smallest of these three kings' pyramids belongs to the sixth king of the Fourth Dynasty, Menkaure and is one-tenth the size of Khafre's. See the table below.

The Fourth Dynasty of Egypt ruled during a period known as the Old Kingdom, lasting between 2686 BC and 2181 BC. It was Egypt's first great era of civilisation, and Pharaohs used the construction of pyramids such as those at Giza to exert their power, or sometimes as great tombs to hold their mummified bodies after death. The Egyptians believing in the afterlife.
As the wealth of Egypt waned, from reduced agricultural yield, the pyramids became progressively smaller.
TALLEST PYRAMIDS - TOP TEN
| | | | | | |
| --- | --- | --- | --- | --- | --- |
| No. | HEIGHT | PHARAOH | LOCATION | NAME OF PYRAMID | DYNASTY |
| ... | ... | | ... | ... | ... |
| 1. | 146.60 | Khufu | | | 4th |
| 2. | 143.50 | Khafre | Giza | | 4th |
| 3. | 105.00 | Sneferu | Dashur | Bent Pyramid (false) | 4th |
| 4. | 105.00 | Sneferu | Dashur | | 4th |
| 5. | 78.00 | Senusret III | Dashur | | 12th |
| 6. | 75.00 | Amenemhat III | Dashur | | 12th |
| 7. | 73.30 | Userkaf | Saqqara | | 5th |
| 8. | 66.50 | Menkaure | Giza | | 4th |
| 9. | 62.00 | Djoser | Saqqara | Djoser Pyramid (step) | 3rd |
| 10. | 61.25 | Senuset I | Lisht | | 12th |
ACROPOLIS - ATHENS, ANCIENT GREEKS, PARTHENON, TEMPLE ATHENA NIKE
ANGKOR WAT - HINDU BUDDHIST TEMPLE RELIGIOUS COMPLEX, CAMBODIA
CHICHEN ITZA - ANCIENT MAYAN CITY, YUCATAN PENINSULA, MEXICO
COLOSSEUM - ROMAN HISTORIC CITY CENTRE, ROME, PANTHEON, ITALY
EASTER ISLAND - RAPA NUI, POLYNESIAN HEAD STATUES, PACIFIC OCEAN
GREAT WALL OF CHINA - 3RD CENTURY BC EMPEROR QIN SHI HUANG & MING DYNASTY
MACHU PICCHU - PYRAMID, PERU, INCAN LOST CITY, ANDES
PETRA - TREASURY, AL-KHAZNEH, SIQ GORGE, NABATAEANS, SOUTHERN JORDAN
PYRAMIDS - GREAT SPHINX, MEMPHIS NECROPOLIS, GIZA, EGYPT
TAJ MAHAL - MAUSOLEUM BUILT BY SHAH JAHAN, AGRA, INDIA
VATICAN CITY - THE WORLD'S SMALLEST, HOLIEST CHRISTIAN STATE
WESTMINSTER ABBEY - HOUSES OF PARLIAMENT, LONDON, ENGLAND
TENTATIVE LISTINGS
PORT ROYAL - JAMAICAN SUNKEN CITY 1692, PIRATES HISTORY