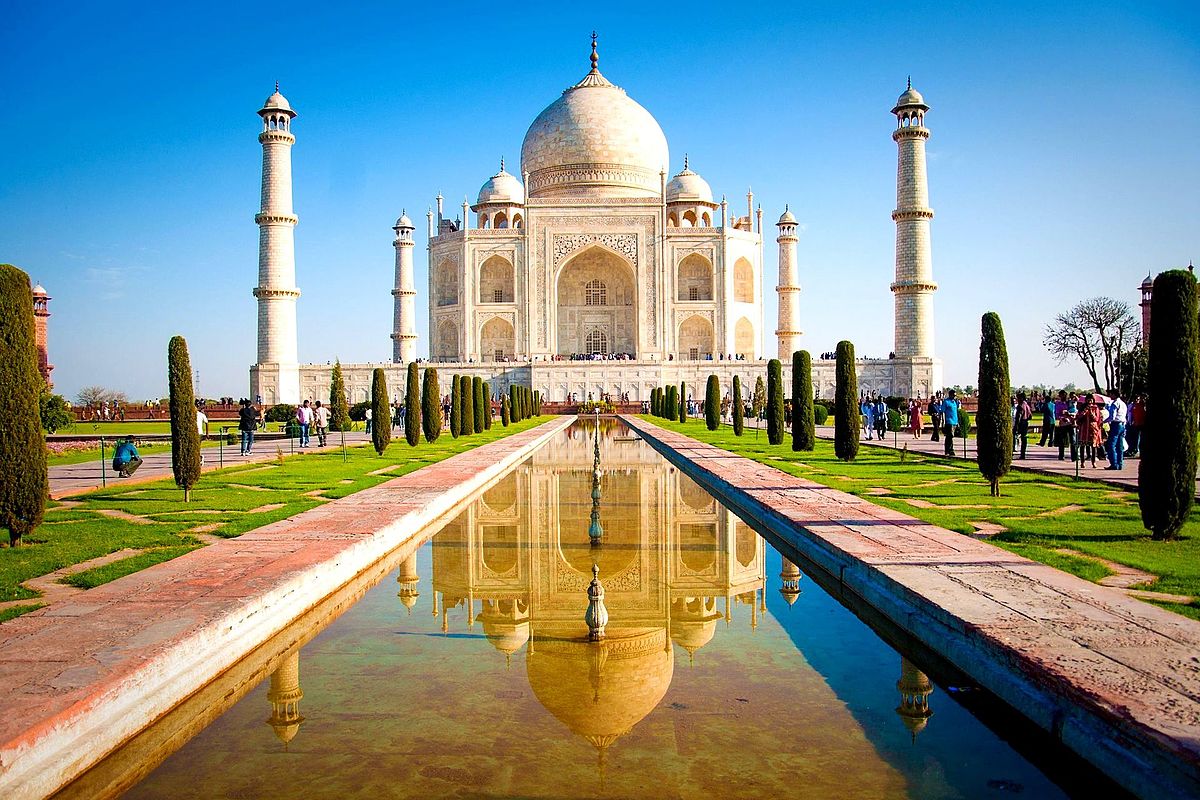 Built between 1631 and 1654, the construction of the Taj Mahal was ordered by the ruling emperor Shah Jahan as a mausoleum for his favourite wife, Empress Mumtaz Mahal.

The Empress had died in 1631 whilst giving birth to the coupleís fourteenth child, Gauhara Begum and her jade and jasper adorned coffin was placed in the centre of the Taj Mahal, although her body and that of her husband (buried there later) are actually contained several floors below.

The white marble structure of the Taj Mahal, with its central dome flanked by arches and smaller domes as well as minarets is famed for its incredible symmetry and opulent design. Inside, the Taj Mahal is lavishly decorated with plant life imagery and Koranic calligraphy, each aspect of which is entirely individual. In fact, it is believed that approximately 20,000 workers toiled to create the Taj Mahal.

Nearby are several other beautiful buildings, including the Taj Mahalís mosque and the Jilaukhana gated complex, all of which add to the overall symmetry of the site.

Some of the Taj Mahalís original decoration has been looted over the centuries and the white colour structure is suffering from the effects of pollution.

ACROPOLIS - ATHENS, ANCIENT GREEKS, PARTHENON, TEMPLE ATHENA NIKE
ANGKOR WAT - HINDU BUDDHIST TEMPLE RELIGIOUS COMPLEX, CAMBODIA
CHICHEN ITZA - ANCIENT MAYAN CITY, YUCATAN PENINSULA, MEXICO
COLOSSEUM - ROMAN HISTORIC CITY CENTRE, ROME, PANTHEON, ITALY
EASTER ISLAND - RAPA NUI, POLYNESIAN HEAD STATUES, PACIFIC OCEAN
GREAT WALL OF CHINA - 3RD CENTURY BC EMPEROR QIN SHI HUANG & MING DYNASTY
MACHU PICCHU - PYRAMID, PERU, INCAN LOST CITY, ANDES
PETRA - TREASURY, AL-KHAZNEH, SIQ GORGE, NABATAEANS, SOUTHERN JORDAN
PYRAMIDS - GREAT SPHINX, MEMPHIS NECROPOLIS, GIZA, EGYPT
TAJ MAHAL - MAUSOLEUM BUILT BY SHAH JAHAN, AGRA, INDIA
VATICAN CITY - THE WORLD'S SMALLEST, HOLIEST CHRISTIAN STATE
WESTMINSTER ABBEY - HOUSES OF PARLIAMENT, LONDON, ENGLAND
TENTATIVE LISTINGS
PORT ROYAL - JAMAICAN SUNKEN CITY 1692, PIRATES HISTORY