Money! Money! Money! dominated the second full day of Cop27, with a deep chasm emerging between long-time polluting rich states and developing countries that need finance to deal with devastating extreme weather events while also cutting emissions.

Meanwhile, Egypt will realise it cannot hold such a significant international conference without its dire human rights record being thrust into the limelight. That means contrast against the like of the United Kingdom, which employs more of a stealth version of a police state, but may change with King Charles III at the helm. Time will tell. For sure, there are double standards, where the UK's Queen Elizabeth, had refused to engage with a British subject some years before her passing, the victim of long-term discrimination of some 40 years - hence mental torture - and where there is no effective remedy in the United Kingdom, and no Right of Appeal is criminal cases. The former Prince of Wales, King Charles III is next in line to pick up, or refuse an audience, potentially, in denial of his statutory obligations.


Here are some of the highlights from the second day:

- The president of the European Commission, Ursula von der Leyen, urged the global north to follow the EU's example of committing climate finance to the global south.

- A report by the renowned climate economist Nicholas Stern showed $2tn a year (£1.75tn) would be needed by developing countries (excluding China) by 2030 to cut their greenhouse gas emissions and cope with the effects of climate breakdown.

- However, civil society climate experts called out "America's decades-long game plan of denial, delay and deception" when it comes to loss and damage funds.

- In one such stark example, Shehbaz Sharif, the prime minister of Pakistan, said his country needed more than $30bn in flood relief "despite our very low carbon footprints".

- The Barbados prime minister, Mia Mottley, celebrated that loss and damage had been added to the agenda of Cop27.

- The family of the jailed British-Egyptian hunger striker Alaa Abd el-Fattah voiced fears that Egyptian officials may be torturing him behind closed doors through force-feeding. A pro-government Egyptian MP confronted Abd el-Fattah's sister, Sanaa Seif, outside the conference.

- The release of Abd el-Fattah has become the defining issue for British-Egyptian relations, the former British ambassador to Egypt John Casson said.

- For the first time in years, Egypt has unblocked access to the Human Rights Watch website, a day after the Guardian described how delegates at Cop27 were unable to access it.

- A UN group set up to crack down on the greenwashing of net zero pledges by industry and government has called for "red lines" to stop support for new fossil fuel exploration and overuse of carbon offsets.

- Tuvalu has become the first country to use United Nations climate talks to demand an international fossil fuel non-proliferation treaty, which would phase out the use of coal, oil and gas.

- Temperatures in Ireland were so mild this autumn that trees were producing new growth before they shed their leaves, according to the Irish taoiseach, Micheál Martin.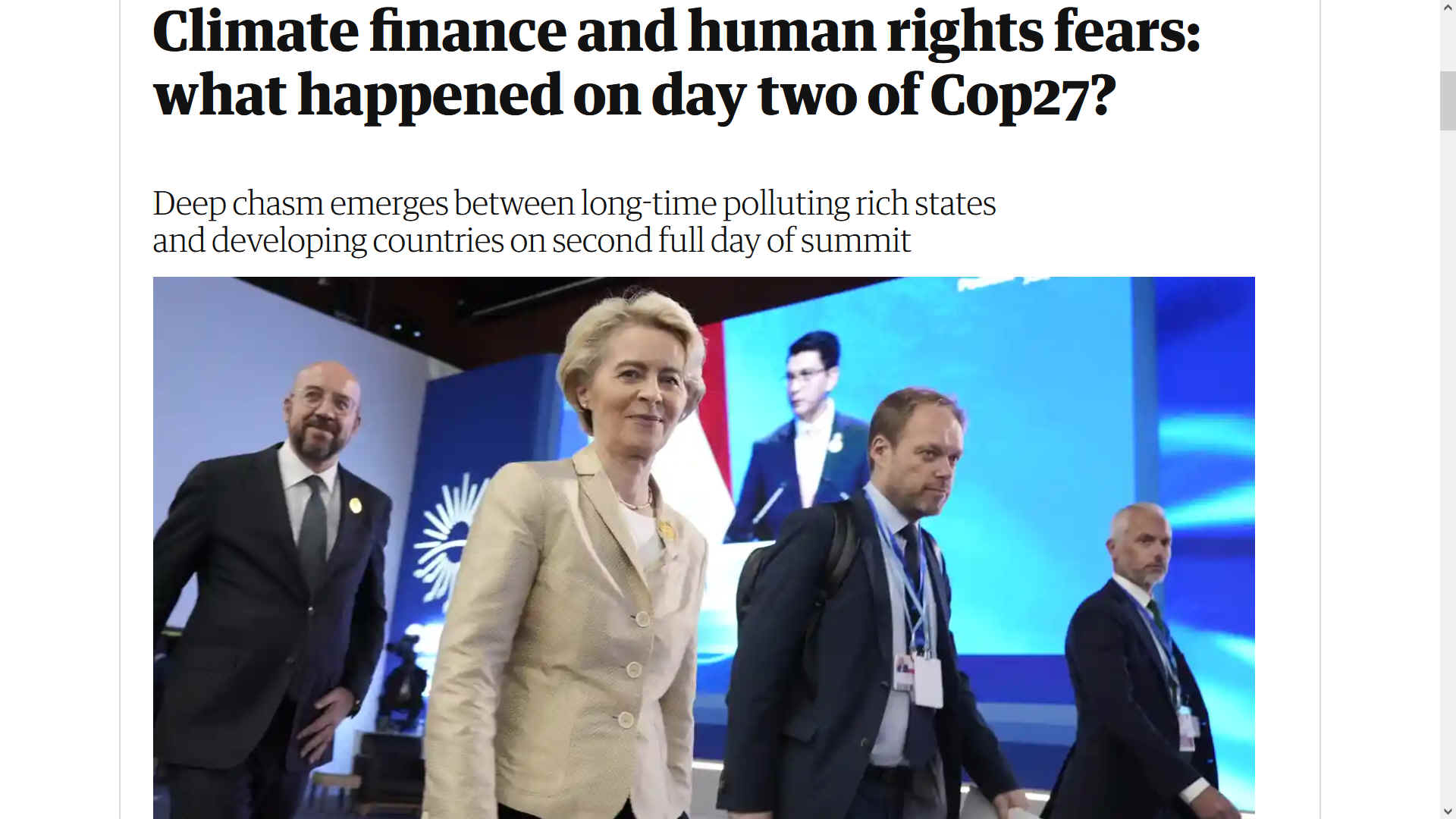 COP27 AUSTRIA PLEDGES €50 MILLION EUROS OF FUNDING FOR LOSS AND DAMAGE FROM CLIMATE CHANGE

Austria will provide €50 million to developing countries facing unavoidable damage and losses caused by climate change, the country's climate ministry told Reuters. It joins a small group of European nations to offer such funds,

Compensation linked to extreme weather and global warming has leapt up the political agenda at the UN climate conference taking place in Sharm el-Sheikh, Egypt.

Under pressure from developing nations, countries have agreed to hold their first formal talks on loss and damage, shorthand for cash rich polluters would pay to poorer states facing unavoidable damage from worsening floods, drought and sea level rise.

Just four other governments - Belgium, Denmark, Germany and Scotland - have committed small amounts of loss and damage funding, breaking ranks with other rich nations that have resisted such payments for fear of spiralling liabilities for their outsized contribution to causing climate change.

Austria will provide at least €50 million to tackle loss and damage over the next four years, the climate ministry said.

The funds could support the "Santiago Network", a UN scheme providing technical support to countries faced with damages from climate-fueled natural disasters, and a programme providing early warning systems to countries prone to extreme weather.

"The most vulnerable countries in the Global South are suffering particularly badly from the consequences of the climate crisis – and are rightly demanding more support from industrialised countries," climate minister Leonore Gewessler said.

AN EXTRA €10 MILLION FOR CLIMATE FINANCE

Gewessler said Austria would also add another €10 million to this year's budget for climate finance.

"Austria is taking responsibility," she said.

Climate campaigners have said, however, that the trickle of one-off commitments is no substitute for consistent support.

So far, the amount pledged falls far short of the billions of dollars in losses already suffered by vulnerable countries hit frequently by extreme floods, drought and storms.

Cyclone Idai caused some €1.4 billion in total damage and €1.39 billion in losses when it struck Mozambique in 2019. Some research suggests that by 2030, vulnerable countries' climate-linked losses could reach €580 billion per year.

Developing countries want countries to agree at COP27 to launch a funding facility, dedicated to loss and damage. The United States and 27-country European Union - of which Austria is a member - have previously opposed the idea.

Saleemul Huq, an adviser to the Climate Vulnerable Forum group of 58 countries, welcomed Austria's funding, saying the forum expected Austria and others to support a deal on a dedicated loss and damage fund at COP27.

"Every country announcing funding for the loss and damage from human-induced climate change is most welcome," he said.
THE GUARDIAN 6 NOVEMBER 2022

Cop27 had not even officially opened, and already we delegates found ourselves staying up all night wrangling over important issues. In this case, it was loss and damage – and there may be many more late nights to come on that issue.

At the official start of the conference of the parties to the UN framework convention on climate change (UNFCCC), the conference must first of all achieve consensus on the agenda.

On Saturday, the night before the official start, we argued late into the night as consensus on what should be on the agenda was proving impossible to achieve. The discussions started at 3pm. By 9pm, the presidency had still not achieved consensus after several rounds of consultation. By that time, there was no food left – everywhere had shut – but fortunately there was still water for us to drink.

In the halls, the finishing touches were still being put to the stands, pavilions and delegation rooms. But even at close to midnight, the finishing touches to the agenda still looked far off.

Agreeing an agenda might sound minor, but it is the basis of discussions for the next fortnight. If crucial items are not on the agenda, they cannot form part of the official negotiations. And on Saturday night there was still no agreement on one of the most crucial issues that will come up at this conference: loss and damage.

Developing countries want to make progress on loss and damage at this Cop because we are suffering loss and damage now. We are suffering impacts from the climate crisis that are having a very serious effect on our people. Devastating floods, desperate droughts, storms that wreck our towns and villages – these are becoming more damaging and more frequent. We need help.

Developed countries have so far been reluctant to provide the help we need. But this needs to be addressed, and an agenda item for Cop27 discussions will allow those negotiations to take place at Sharm el-Sheikh.

One of the key issues is whether the agenda item should include the terms "liability" and "compensation". The developed countries want a footnote that says the ideas of liability and compensation are excluded. This goes back to article 8 of the Paris agreement. In paragraph 51 of the decision text on the Paris agreement, it says liability and compensation are excluded from loss and damage.

But in the original treaty, the 1992 UNFCCC, they are not excluded. So we want to leave this open, to be freer in our discussions, by not having these exclusions referred to in the agenda item. Developed countries won't agree.

It happens sometimes that there are different views about the agenda before a Cop, so this kind of delay to a consensus on an agenda has occurred previously. But already this feels like it is going to be a difficult Cop.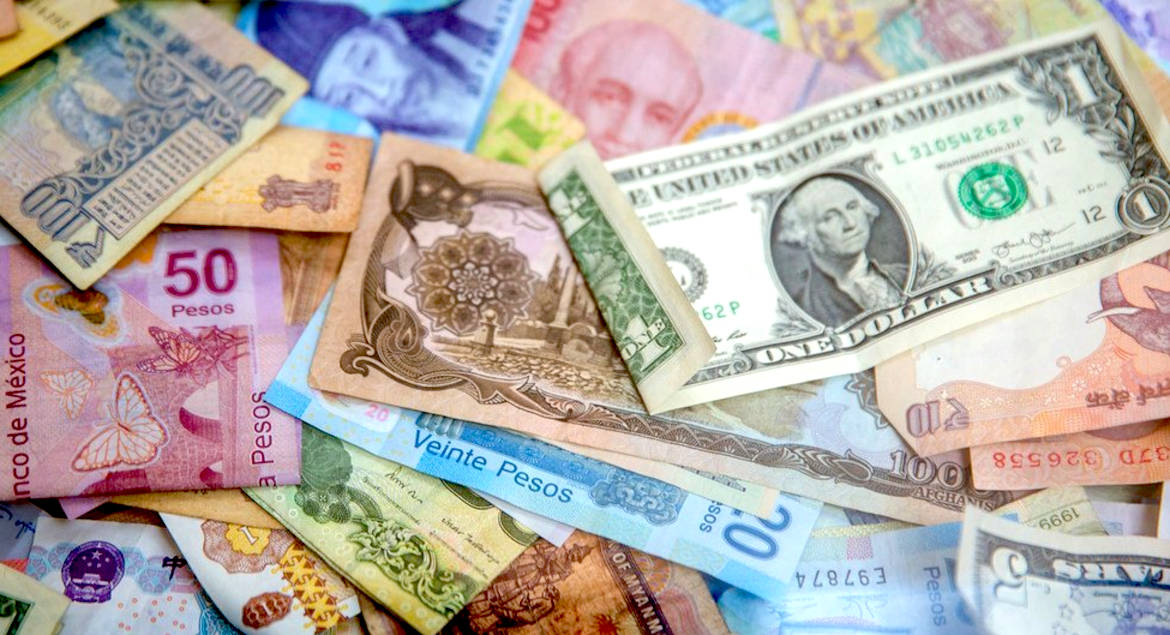 FINANCIAL TIMES 8 NOVEMBER 2022 - LOSS & DAMAGE STALEMATE IS AT BREAKING POINT AS COP27 BEGINS

The idea of richer countries paying out to cover the costs of climate damage has long been a divisive subject

It is often hard to predict what will happen at the huge annual UN talks that, since 1995, have been held to thrash out global climate change agreements.

But not this year. Much of the November COP27 meeting in the Egyptian resort city of Sharm el-Sheikh will be consumed by one of the most protracted, divisive and confusing issues ever to arise in these negotiations: "loss and damage".

With luck, the COP27 conference will finally start to resolve this festering problem. Actually, make that: with a lot of luck.

The idea of climate loss and damage first emerged more than 30 years ago in small island countries — the places where lives and livelihoods were most at risk from rising sea levels and vicious storms. In the early 1990s, these nations began to call for measures, such as an international insurance system or a global fund, bankrolled by richer countries, to help cover such losses.

However, the UN climate talks ended up producing two different types of funding. "Adaptation" financing was supposed to help countries adapt to the effects of climate change, by funding projects such as flood barriers or hurricane early warning systems. "Mitigation" funds were aimed at helping poorer countries decarbonise by building, say, electric bus services or solar farms.

The idea of directing money towards irrecoverable losses and costly damages did not take off. Instead, it became a flashpoint in talks that have long divided countries: those that grew rich by burning fossil fuels on one side; and, on the other, poor nations that did almost nothing to warm the planet yet suffer some of the worst effects of climate change.

"For many small island countries and developing nations, loss and damage is a euphemism for liability and compensation — one way to extract money and support from wealthy countries most responsible for climate change," says Lisa Vanhala, a political-science professor at University College London who has spent years researching loss and damage.

"But the US, European Union and many other countries have been correspondingly nervous about legally admitting liability for climate damages or opening themselves up to potentially bottomless compensation claims."

This stalemate continued, even as the physical evidence of climate change became harder to ignore, until 2013. More than 6,000 people died that year when Typhoon Haiyan, one of the most powerful tropical cyclones on record, tore through the Philippines — just a year after Typhoon Bopha claimed more than 1,000 lives in the same country. Adaptation money was no match for such destruction.

At the 2013 COP19 climate conference in Warsaw, Poland — where the Philippines' chief negotiator wept as he spoke of the "hell storm" battering his country — loss and damage finally received institutional recognition.

In the clunky words of the UN, a "Warsaw International Mechanism" was set up to expand understanding of the loss and damage concept and boost efforts to address it. But progress was glacial. Successive COPs produced more promises of dialogue and study, but rich countries continued to resist demands for concrete loss and damage funding.

Meanwhile, researchers estimated developing countries could face up to $580bn in annual climate damages by 2030, and more than $1tn by 2050.

Anger over this stand-off has reached a critical stage in the run-up to COP27. Many negotiators will arrive from developing countries battling food, fuel and debt crises as they struggle to recover from the pandemic.

Some, like Pakistan, also embody loss and damage: it suffered horrific floods this year that killed more than 1,400 people and caused an estimated $40bn of damages and a 2.2 per cent hit to GDP.

Pakistan is the current chair of "the G77 and China", a powerful coalition of more than 100 developing countries that often negotiate as a unit at the UN talks.

That group is expected to back a plan that has long been advocated by another negotiating group, the Alliance of Small Island States, or AOSIS, to set up a dedicated loss and damage response fund.

Michai Robertson, lead negotiator on climate finance for AOSIS, says the fund would in no way amount to climate reparations or open-ended compensation. "Funding would be mobilised primarily from voluntary sources, and allocated specifically for activities to respond to climate losses and damage," he says.

Where would the money come from? A range of ideas have been raised, including taxes on the super-rich, or fossil fuel companies and flights. Some wealthy countries now recognise the need for more concrete action. Denmark this year became the first nation to offer loss and damage funding, with a pledge of around $13mn.

But other rich nations are backing alternative plans, such as subsidised insurance systems, which they argue would deliver funding faster to countries most in need. That is important, says Robertson.

They do not, however, begin to address non-economic damage such as the permanent loss of territory, culture and ecosystems. Also, he says, as climate impacts become more frequent and intense, many assets will become uninsurable.

Can a compromise be reached in Sharm el-Sheikh? If history is a guide, it's a long shot. But so is the idea that some sort of loss and damage funding can again be pushed down the road for yet another year.

By Pilita Clark (FT business columnist)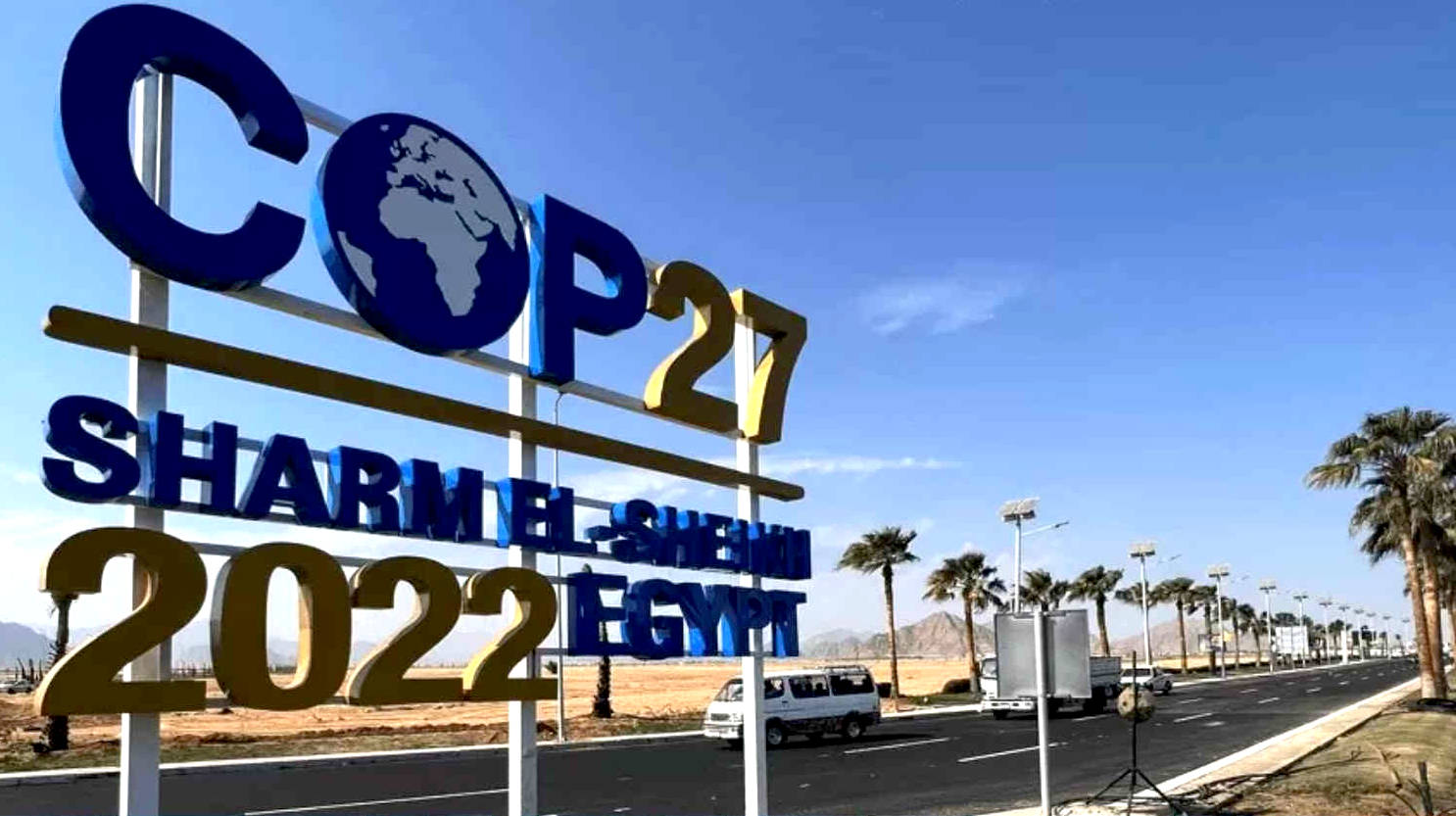 The UN Climate Change Conference in Sharm el-Sheik, Egypt, should shift the world towards implementation of previously agreed plans to tackle humanity's greatest challenge, Simon Stiell, the new (President) Executive Secretary of the UN Framework Convention on Climate Change (UNFCCC), said on Sunday at the opening of COP27. The host was Egypt's President Abdel Fattah el-Sisi.
CONTACTS

Sharm El-Sheikh International Convention Center (SHICC)
EL Salam Road,Um Marikha Bay, South Sinai Governorate

Tel: +20 (69) 360 4110
1995 COP 1, BERLIN, GERMANY
1996 COP 2, GENEVA, SWITZERLAND
1997 COP 3, KYOTO, JAPAN
1998 COP 4, BUENOS AIRES, ARGENTINA
1999 COP 5, BONN, GERMANY
2000:COP 6, THE HAGUE, NETHERLANDS
2001 COP 7, MARRAKECH, MOROCCO
2002 COP 8, NEW DELHI, INDIA
2003 COP 9, MILAN, ITALY
2004 COP 10, BUENOS AIRES, ARGENTINA
2005 COP 11/CMP 1, MONTREAL, CANADA
2006 COP 12/CMP 2, NAIROBI, KENYA
2007 COP 13/CMP 3, BALI, INDONESIA
2008 COP 14/CMP 4, POZNAN, POLAND
2009 COP 15/CMP 5, COPENHAGEN, DENMARK
2010 COP 16/CMP 6, CANCUN, MEXICO
2011 COP 17/CMP 7, DURBAN, SOUTH AFRICA
2012 COP 18/CMP 8, DOHA, QATAR
2013 COP 19/CMP 9, WARSAW, POLAND
2014 COP 20/CMP 10, LIMA, PERU
2015 COP 21/CMP 11, Paris, France
2016 COP 22/CMP 12/CMA 1, Marrakech, Morocco
2017 COP 23/CMP 13/CMA 2, Bonn, Germany
2018 COP 24/CMP 14/CMA 3, Katowice, Poland
2019 COP 25/CMP 15/CMA 4, Santiago, Chile
2020 COP 26/CMP 16/CMA 5, Glasgow, Scotland
2021 COP 26/ Glasgow, Scotland 1-12 November
2022 COP 27/ Sharm El-Sheikh, Egypt, 6-18 November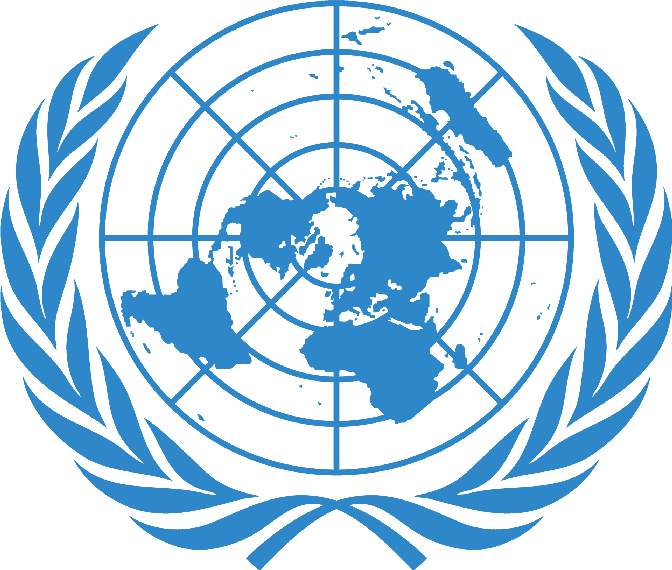 https://www.euronews.com/green/2022/11/08/cop27-austria-pledges-50m-of-funding-for-loss-and-damage-from-climate-change
https://www.ft.com/content/e74f8b16-c2d4-40d7-97e4-aef733676cf3
https://www.euronews.com/green/2022/11/08/cop27-austria-pledges-50m-of-funding-for-loss-and-damage-from-climate-change
https://www.euractiv.com/section/climate-environment/news/cop27-what-is-loss-and-damage-compensation-and-who-should-pay/
https://www.euronews.com/green/2022/11/08/cop27-austria-pledges-50m-of-funding-for-loss-and-damage-from-climate-change
https://www.ft.com/content/e74f8b16-c2d4-40d7-97e4-aef733676cf3
https://www.euronews.com/green/2022/11/08/cop27-austria-pledges-50m-of-funding-for-loss-and-damage-from-climate-change
https://www.euractiv.com/section/climate-environment/news/cop27-what-is-loss-and-damage-compensation-and-who-should-pay/