The COP 27 is expected to take place in Egypt's Sharm El Sheikh city from 6 to 18th November 2022. Egypt's minister of foreign affairs, Sameh Shoukry, is taking over from COP26 president Alok Sharma (also attending) and will play a key role at the summit.

A big question mark is still hovering over King Charles III's attendance. Previous UK PM Liz Truss reportedly "advised" the new monarch - a veteran climate advocate - that he should not go, and Buckingham Palace confirmed he would comply.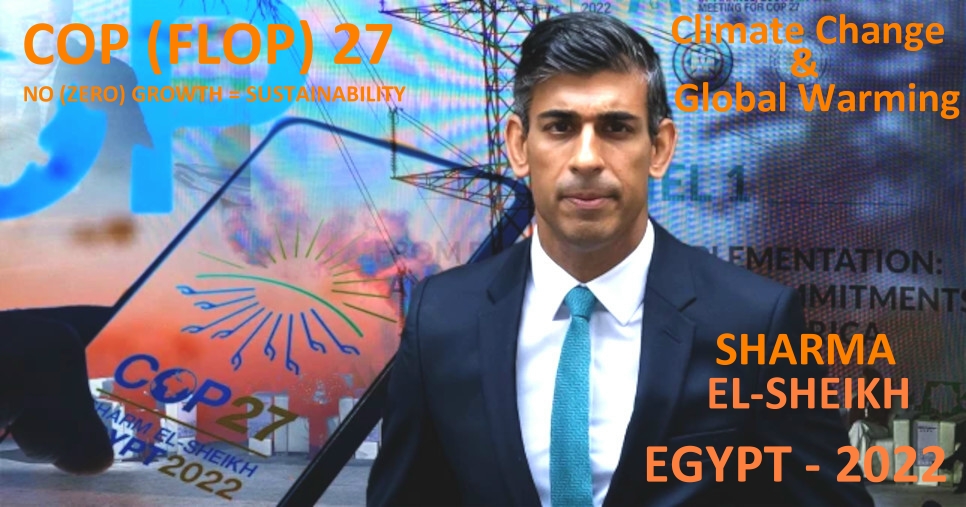 Politicians promoting growth are somewhat behind the curve. We reached saturation point many years ago. The planet cannot sustain growth, even turbo charged with chemical fertilizers. Such agricultural practices, designed to boost harvests to feed the starving millions, creates deserts of agricultural land and washes nutrients into the sea, where it manifests as sargassum blooms - creating havoc for island economies.


METRO 31 OCTOBER 2022 - RISHI COULD BE SET FOR FIRST U-TURN AFTER BACKLASH TO HIS COP 27 SNUB

Rishi Sunak has been urged to make a U-turn on his decision to snub the Cop 27 climate change meeting in Egypt next week.

The new Prime Minister has faced a backlash from eco experts who said it would be 'valuable' for him to attend.

He is considering changing his focus and heading to the meeting of World Leaders, it has been claimed.

His earlier insistence that he must focus on the 'depressing domestic challenges' rather than go to the summit sparked a backlash in the Tory ranks.

The Government's climate tsar Alok Sharma said he was 'disappointed' by the move, while Tory former chancellor George Osborne asked why Mr Sunak would 'trash' the party's record on the environment.

Food minister Mark Spencer today made clear the Prime Minister may go to the gathering of world leaders in the Red Sea resort.

He said: 'The Prime Minister has a huge inbox…full to the brim.

'Clearly, he wants to concentrate on the financial statement and that is what is he doing.

'But if he is able to get through all of that, Cop is very important to the Government, to our future, so we will send out senior ministers.'

Pressed if he would like to see the PM go to the summit, he added: 'If he has got time.

'Only he will know what he has got in his inbox and in his diary, if he has the time.

'He will make that call and I'm sure it will be the right one.'

New levelling up secretary Michael Gove also urged people to judge the Government 'by our actions' on the environment rather than Cop 27 attendance.

Mr Gove told Sky News's Sophy Ridge On Sunday programme: 'I know that across Government we want to field the strongest possible team at Cop but there are strong pressures on the Prime Minister's diary.'

'Even more important than who goes is what we do,' he told the BBC's Sunday With Laura Kuenssberg, saying the UK is the 'fastest' decarbonising economy in the G7 and is moving towards electric vehicles and renewable energy.

'Judge us by our actions,' he said.

Green Party MP Caroline Lucas said Mr Sunak should be rethinking his decision not to attend the Sharm El-Sheikh summit.

She told Ms Kuenssberg: 'It is absolutely so wrong that Rishi Sunak is not going because the UK is still the holder of the Cop presidency. Symbols matter.'

Asked about reports that Boris Johnson could attend Cop 27, she said: 'If it embarrasses Rishi Sunak to reverse his disgraceful decision and actually get there himself, all and good.'

Mr Sharma, the president of last year's Cop 26 summit in Glasgow, who will lead the UK negotiating team at the UN climate conference in Sharm el-Sheikh next week, said: 'I'm pretty disappointed that the prime minister is not going.

'I understand that he's got a huge in tray of domestic issues that he has to deal with.

'But I would say that going to Cop27 would allow for engagement with other world leaders. And I think it does send a signal — if the prime minister was to go — about our renewed commitment on this issue.'

It has also been reported that Boris Johnson is planning to attend the summit in Egypt to show his support for international efforts to tackle climate change.

Former Conservative chancellor George Osborne added his voice to the backlash, saying Mr Sunak had 'mishandled' the situation.

Touting the Tories' environmental record, he told Channel 4's The Andrew Neil Show: 'Why trash that because you don't want to get on a plane to Egypt?'

But Lord Deben, chairman of the Climate Change Committee, warned the UK's bid to tackle emissions was 'off track'.

The peer told the Independent it would be 'very valuable' for Mr Sunak to go to the climate summit.

Allies of the Prime Minister indicated he might go after all, the Financial Times and i reported.

The sources said that while dealing with the economic crisis is his priority, he could go to Egypt if enough 'progress' is made on preparing the November 17 budget, according to the newspapers.

Speculation that Boris Johnson, Mr Sunak's predecessor at No 10, could go to the UN conference has increased pressure on the Prime Minister.

It added to a wider dispute over UK representation, after the King was advised by Downing Street not to attend the Sharm El-Sheikh summit.

Charles will host a reception for 200 guests, including US climate envoy John Kerry, at Buckingham Palace on Friday to mark the climate conference, with Mr Sunak due to say a few words.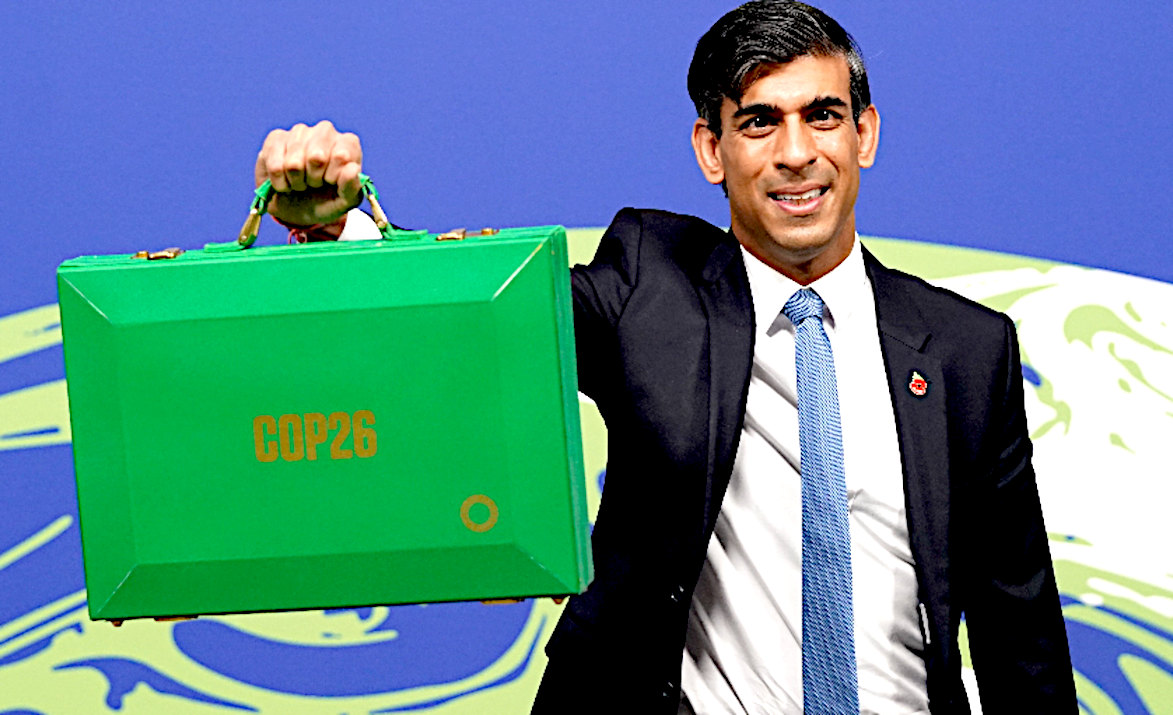 A PLANET HAS TO KNOWN IT'S LIMITATIONS
In the words of Clint Eastwood, Planet earth can only produce so much food and other produce, hence support so many people. In our view the agricultural food limitation (security) should be the recognised Standard for all Member Nations to abide by, as a basic rule. To be established as soon as possible as a currency limitation to be imposed on banks and bankers who appear not to understand over, and irresponsible lending. Using coal to accelerate a developing economy, will give us a population that renewables cannot sustain - so causing starvation of millions - as in Africa. If, there is no brake applied to fiscal policies.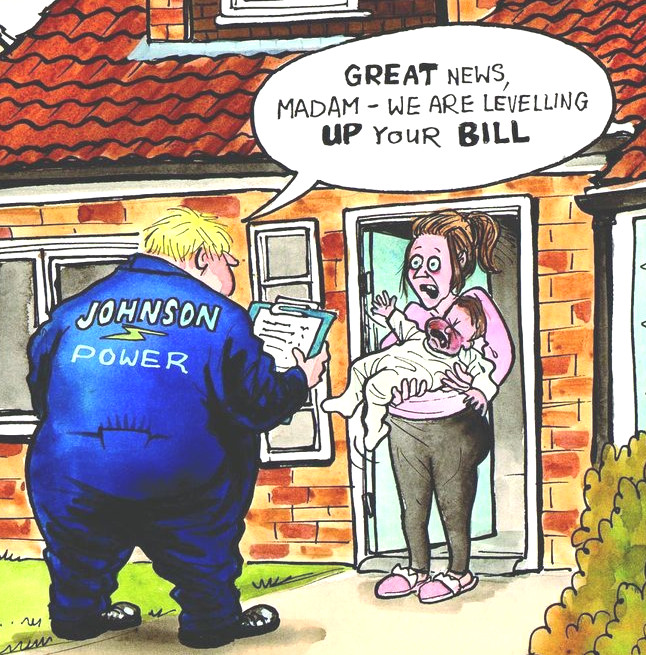 Liz Truss, showed the UK electorate that she did not have a clue as to economic recovery in a cost of living crisis, engineered by the Conservatives over 15 years of corrupt policy and climate mismanagement. Forty-four days later, in October 2022, Rishi Sunak got in the saddle, blazing a Crypto-Currency trail, to promote money based on even less than the false promise on a One Pound Note: "to pay the bearer on demand." Money that is not underwritten by gold, food, or energy, is worthless. Banks want to sell money and get rich, while they sit back and enjoy the efforts of your labours, watching you toil. knowing full well that their money will be worth much less in subsequent years. It is called financial slavery. Saving using paper money, digitally or otherwise, is pointless. We need a return to barter based on gold, silver, food or energy (tokens), to break the hold non-productive leaches have on society.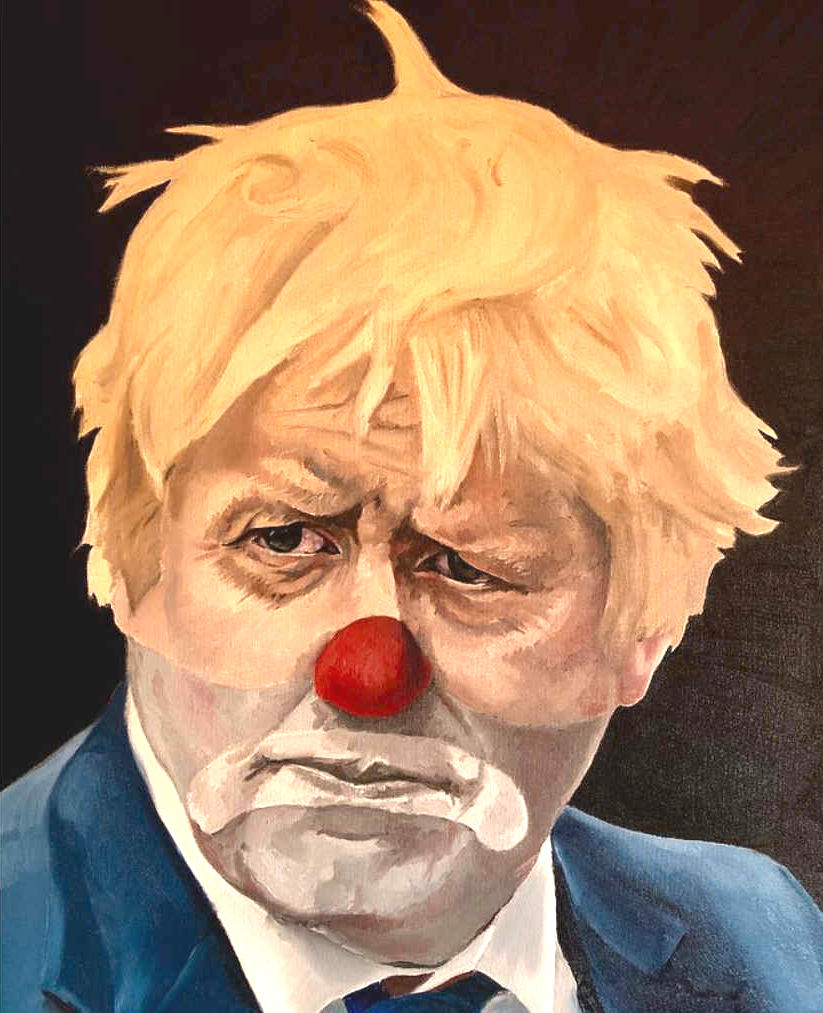 BOJO, ALL TALK - Boris Johnson's Government were too slow to introduce policies and tax breaks to gird the loins of the energy industry and farming communities to combat global warming, and got the Order of The Boot (OTB) as Prime Minister (PM). Don't Call Us (DCU), because You F--ked Up (YFU). So that is Boris Johnson PM OTB, YFU, DCU.
1995 COP 1, BERLIN, GERMANY
1996 COP 2, GENEVA, SWITZERLAND
1997 COP 3, KYOTO, JAPAN
1998 COP 4, BUENOS AIRES, ARGENTINA
1999 COP 5, BONN, GERMANY
2000:COP 6, THE HAGUE, NETHERLANDS
2001 COP 7, MARRAKECH, MOROCCO
2002 COP 8, NEW DELHI, INDIA
2003 COP 9, MILAN, ITALY
2004 COP 10, BUENOS AIRES, ARGENTINA
2005 COP 11/CMP 1, MONTREAL, CANADA
2006 COP 12/CMP 2, NAIROBI, KENYA
2007 COP 13/CMP 3, BALI, INDONESIA
2008 COP 14/CMP 4, POZNAN, POLAND
2009 COP 15/CMP 5, COPENHAGEN, DENMARK
2010 COP 16/CMP 6, CANCUN, MEXICO
2011 COP 17/CMP 7, DURBAN, SOUTH AFRICA
2012 COP 18/CMP 8, DOHA, QATAR
2013 COP 19/CMP 9, WARSAW, POLAND
2014 COP 20/CMP 10, LIMA, PERU
2015 COP 21/CMP 11, Paris, France
2016 COP 22/CMP 12/CMA 1, Marrakech, Morocco
2017 COP 23/CMP 13/CMA 2, Bonn, Germany
2018 COP 24/CMP 14/CMA 3, Katowice, Poland
2019 COP 25/CMP 15/CMA 4, Santiago, Chile
2020 COP 26/CMP 16/CMA 5, Glasgow, Scotland
2021 COP 26/ Glasgow, Scotland 1-12 November
2022 COP 27/ Sharm El-Sheikh, Egypt, November
REFERENCE

https://metro.co.uk/2022/10/31/rishi-could-be-set-for-first-u-turn-after-backlash-to-his-cop-27-snub-17667501/
https://unfccc.int/event/cop-27
https://cop27.eg/