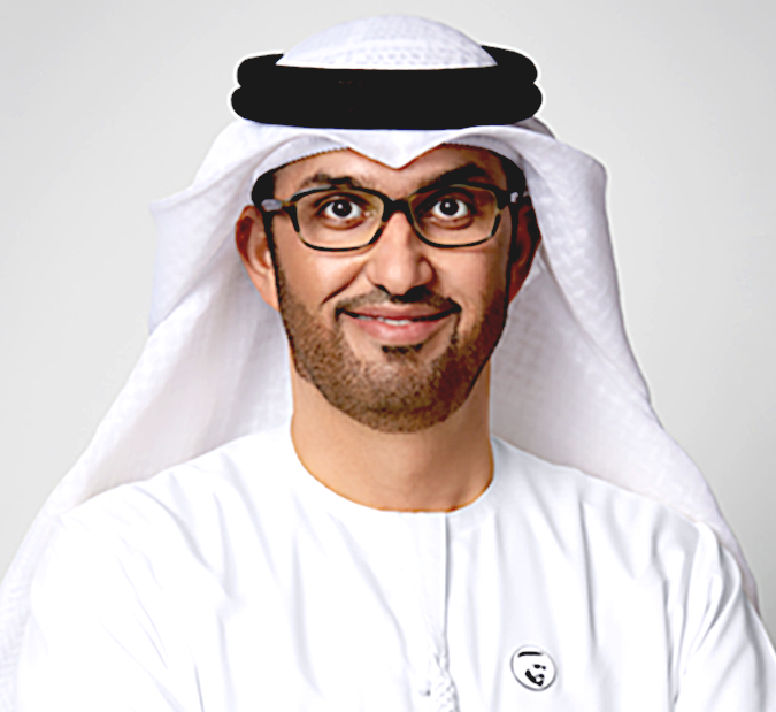 INTERNATIONAL FINANCIAL MORATORIUM - Why not just cancel all debts, in return for pledges not to build any more houses, factories, vehicles and vessels, that are not 100% zero emission. The banks do not need the money - and it is only paper. They are the drivers of global warming. Just stop the clock!
You may think it strange, that the United Arab Emirates has named a veteran technocrat who both leads Abu Dhabi's state-run oil company and oversees its renewable energy efforts, to preside over the upcoming United Nations climate negotiations in Dubai. We'd call that a conflict of interests real, rather than imagined. Incredibly, Emirati authorities nominated Sultan al-Jaber, a confidant of UAE President Sheikh Mohammed bin Zayed Al Nahyan, who serves as CEO of the Abu Dhabi National Oil Co. Let's hope he can switch between oil interests, and renewable interests like a Gemini on steroids.

Can the solution be that simple? All countries enforce a Moratorium on their National Debts. Simply stop paying, as one great big global stab on the global warming brake pedal.
Bogus paper currencies and printing money, is mainly responsible for superheating economies, bearing no relation at all to what the real world can produce sustainably. This is all the fault of Bankers and Banking, virtually unregulated international borrowing, way above the means of countries to repay, causing massive national debts - and corresponding climate change, as carbon footprints increase.
What we need is a Green-Dollar, a reversion to Gold-Standard days, except index linked to agricultural produce and renewable energy production. Such a mechanism will have a natural braking effect on fat cats looking for a free lunch at the expense of working people, as the banks leach on the genuine producers in society.
It is the wealthy billionaires who are giving nothing back. With politicians in the pockets of those contributing to party funds, to keep a dysfunctional system going. Hence, apart from a $Green-Dollar, we may also need a Wealth Tax. With such taxes going to pay off national debts, 100% transparently, and corruption free. If all countries unanimously declared a debt Moratorium, with each of them devaluing their currency, we'd have an inflation free world. Provided, that those doing so, stopped building:
1. Houses that reek of CO2.
2. Cars and trucks that pump toxic gases into the atmosphere
3. Ships that pollute the air
4. Factories that swallow energy like there is no tomorrow
And, immediately:
5. Ban coal for domestic and export energy production
6. Embark on a wind turbine and PV farm building programme
7. Engage more proactively in electric and hydrogen infrastructure.
8. Plant more trees in sustainable fashion to exceed use threefold
9. Monitor politicians and civil servants for bribes and favours using anti-money laundering algorithms
10. Signed up to a $Green or $Agri dollar, index linked to sustainable food and energy production
It won't happen of course. Because the World Bank and International Monetary Fund (IMF) are the greed driven culprits, who have engineered the present climate crisis, in fueling kleptocratic empire building. Instead of cautious restraint.
The UAE will host COP28, the annual climate summit, at Expo City, Dubai, from 30th November - 12th December, 2023.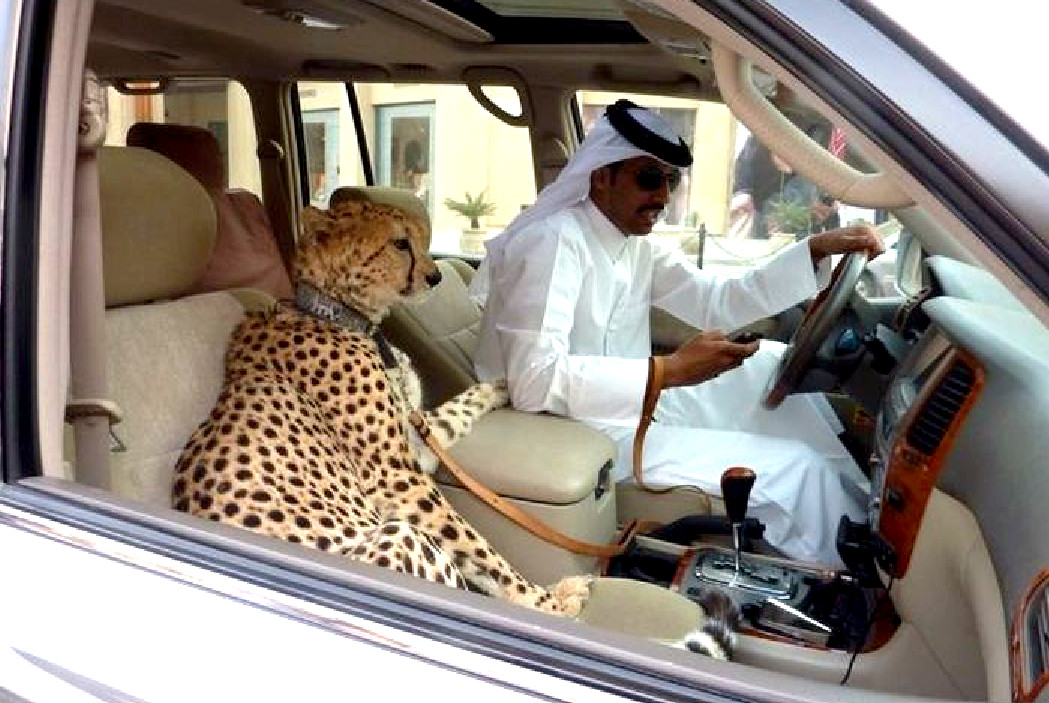 Owning an exotic pet in Dubai has long been a status symbol for wealth in the Middle East. This dates back to when Egyptian and Persian royalties owned big cats as a sign of power. Many well-off folks flaunted possessing a baby leopard or a cheetah in their car or boat, even letting them run free on the beach.

In 2017 the United Arab Emirates put up a law banning people from owning these wild animals. Officials were concerned about the dangers of these animals running wild. Anyone involved with the ownership and sale of these exotic animals could face jail time or a $136k fine. The last Pharaoh Queen of Ancient Egypt, was known to be very fond of big cats. And so are we. All life on earth in fact.
FIRST CEO TO SERVE AS COP PRESIDENT
H.E. Dr. Al Jaber is the first CEO to ever serve as COP President, having played a key role in shaping the country's clean energy pathway. Throughout his career, he has pioneered a practical and responsible approach to accelerating the energy transition that embraces climate action, energy accessibility, energy security and economic growth.
As the founding CEO of Masdar, he has overseen its mandate to accelerate the adoption of renewables within the UAE, across the region and globally.
In his current role as CEO of ADNOC, he is spearheading decarbonising and diversifying the company's operations and investments in a drive to make today's energies cleaner, while investing in the clean energies of tomorrow.As COP28 President-Designate, H.E. Dr. Al Jaber will play a crucial role in leading the intergovernmental process, building consensus and driving ambitious climate outcomes with a broad range of partners, including business and civil society.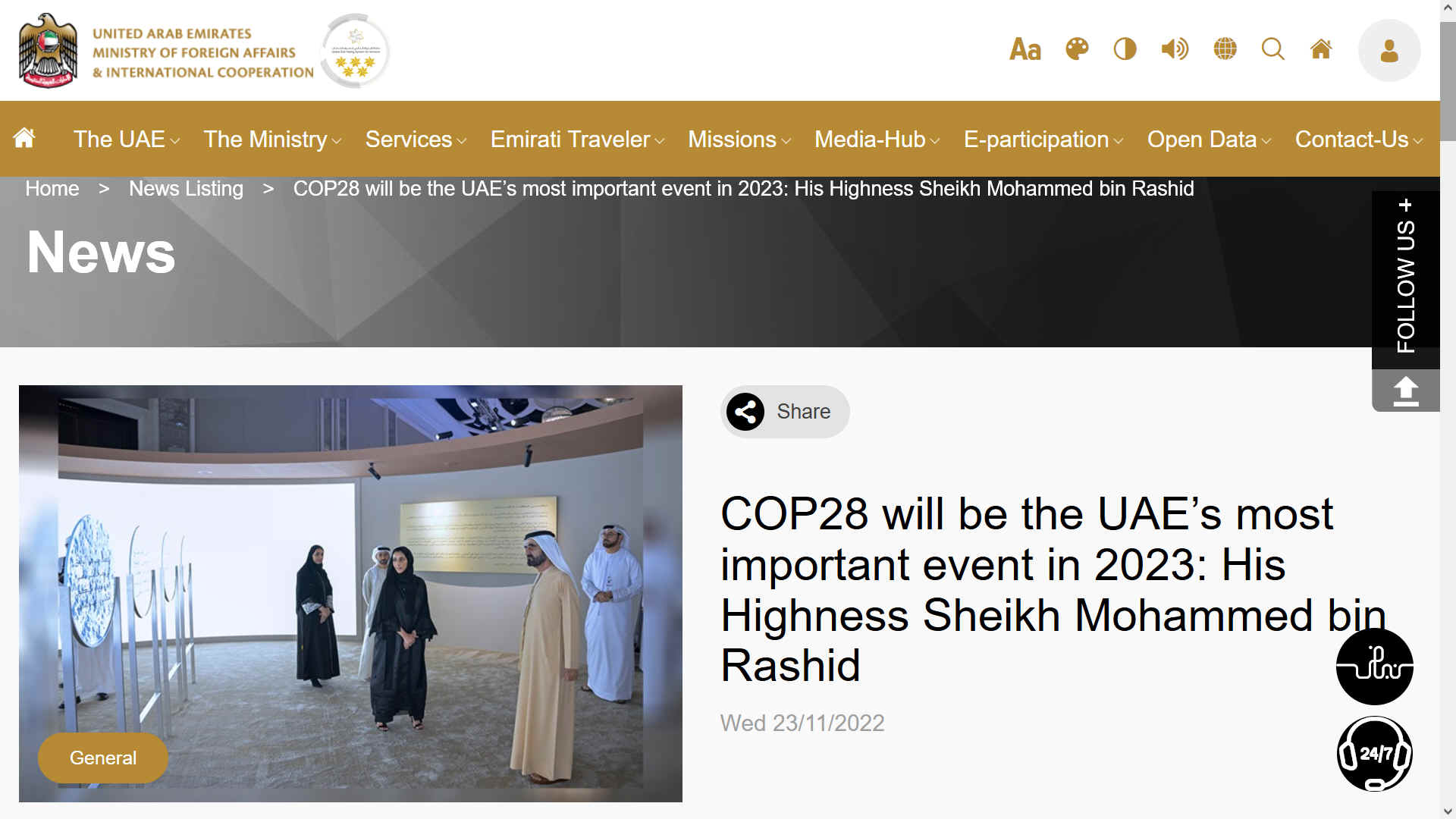 COP28 WILL BE THE UAE'S MOST IMPORTANT EVENT IN 2023: HIS HIGHNESS SHEIKH MOHAMMED BIN RASHID

His Highness Sheikh Mohammed bin Rashid Al Maktoum, Vice President and Prime Minister of the UAE and Ruler of Dubai, said that COP28 will be the most important event hosted by the nation in 2023.

His Highness was addressing the UAE Government Annual Meetings, which reviewed the significance of the UAE hosting the 28th Conference of the Parties (COP28) to the United Nations Framework Convention on Climate Change (UNFCCC).

The session was attended by H.H. Sheikh Hamdan bin Mohammed bin Rashid Al Maktoum, Crown Prince of Dubai; H.H. Sheikh Maktoum bin Mohammed bin Rashid Al Maktoum, Deputy Ruler of Dubai, Deputy Prime Minister, and Minister of Finance; H.H. Sheikh Ammar bin Humaid Al Nuaimi, Crown Prince of Ajman; H.H. Sheikh Mohammed bin Hamad bin Mohammed Al Sharqi, Crown Prince of Fujairah; H.H. Sheikh Mohammed bin Saud bin Saqr Al Qasimi, Crown Prince of Ras Al Khaimah; and H.H. Sheikh Sultan bin Ahmed bin Sultan Al Qasimi, Deputy Ruler of Sharjah.

The session was also attended by H.H. Lt. General Sheikh Saif bin Zayed Al Nahyan, Deputy Prime Minister and Minister of the Interior; H.H. Sheikh Mansour bin Zayed Al Nahyan, Deputy Prime Minister and Minister of the Presidential Court; H.H. Sheikh Hamed bin Zayed Al Nahyan, Member of the Executive Council of the Emirate of Abu Dhabi; H.H. Sheikh Khalid bin Mohamed bin Zayed Al Nahyan, Member of the Executive Council of the Emirate of Abu Dhabi and Chairman of the Abu Dhabi Executive Office; H.H. Sheikh Theyab bin Mohamed bin Zayed Al Nahyan, Member of the Executive Council of the Emirate of Abu Dhabi, and H.H. Sheikha Latifa bint Mohammed bin Rashid Al Maktoum, Chairperson of the Dubai Culture and Arts Authority; and a number of dignitaries, ministers and heads of government departments.

During the session, Dr. Sultan bin Ahmed Al Jaber, Minister of Industry and Advanced Technology and UAE Special Envoy for Climate Change, highlighted the importance of the UAE hosting the Conference of the Parties.

Dr. Al Jaber thanked the vision of the UAE leadership and highlighted the legacy of the founding father, the late Sheikh Zayed bin Sultan Al Nahyan, in promoting sustainable development and environmental protection.

He said the determination of the UAE, its strong diplomatic relations with global nations and pragmatic position on climate action, underpinned by proven experience in the energy and sustainability sectors led to the nation securing the international consensus in 2021 to host COP28 in 2023.

"The late Sheikh Zayed laid the foundations of environmental sustainability and climate action that we have built on in the past decades. Today, we have a proven track record of reducing emissions, accelerating the growth of renewable energy and enabling the energy transition," said Dr. Al Jaber.

He also provided examples of the UAE's achievements over the years, including stopping gas flaring since the 1970s under the directives of the late Sheikh Zayed.

Dr. Al Jaber said that led by the vision and directives of President His Highness Sheikh Mohamed bin Zayed Al Nahyan, Masdar was launched in 2006 as the region's first renewable energy and sustainability initiative. Today, Masdar has implemented several clean energy projects globally, including a solar-powered desalination project as well as a project to study the feasibility of low wind speed turbines. Dr. Al Jaber said the first phase of the Sheikh Mohammed bin Rashid Al Maktoum Solar Park was launched in 2013, another testament to the country's commitment to promoting renewable energy.

Dr. Al Jaber said the UAE was the first country in the region to ratify the Paris Agreement and to announce a strategic initiative to achieve Net Zero by 2050. The UAE also hosts the headquarters of the International Renewable Energy Agency.

Dr. Al Jaber said the UAE has invested more than US$50 billion in clean energy projects in 70 countries, including 40 developing nations, and recently announced the UAE-US Partnership to Accelerate the Transition to Clean Energy (PACE). The project will catalyse US$100 billion in financing, investment, and other support and will deploy 100 gigawatts of clean energy globally.

"The COP is a global political, economic, scientific and social platform to achieve commitments to reduce the impact of climate change through negotiations and to assess the progress in climate action," said Dr. Al Jaber. He added 27 Conferences of the Parties have been held so far, including COP21 which was a milestone moment that witnessed the landmark Paris Agreement.

Dr. Al Jaber stressed that the UAE is committed to advancing climate action based on the outcomes of the past summits, including COP27 in Sharm El Sheikh, which made significant progress in many areas, including the landmark agreement to establish a 'Loss and Damage Fund,' the launch of the Just Energy Transition in the Energy Sector work program and many others.

He said that COP28, which will be hosted in the UAE in 2023 at Expo City Dubai, will be an important global event coinciding with the UAE National Day, adding that the event will welcome high-level participation, including over 140 heads of state and government leaders, over 80,000 delegates and more than 5,000 media professionals.

He said the UAE has commenced preparations for hosting the event. A Higher Committee has been formed chaired by H.H. Sheikh Abdullah bin Zayed Al Nahyan, Minister of Foreign Affairs and International Cooperation, to supervise the preparations for COP28.

Dr. Al Jaber said that COP28 is of particular significance as it marks the conclusion of the first Global Stocktake, a comprehensive assessment of the progress made in achieving the goals of the Paris Agreement.

Dr. Al Jaber said the UAE will focus on finding practical solutions that ensure energy security while reducing emission, adding that the responsibility of leading the negotiations includes a commitment to being a neutral and independent interlocutor to all nations. The presidency also involves formulating the outcomes of the summit and supervising the negotiations to achieve official decisions that will be announced at COP28.

Dr. Sultan Al Jaber said that hosting COP28 is a significant opportunity for the UAE to achieve political and economic benefits for the country, the region, and the world, including finding realistic, practical, and pragmatic solutions to accelerate the global energy transition. He highlighted the role of the UAE in building bridges to advance global efforts that will support the Global South and countries that are most vulnerable.

Concluding his presentation, Dr. Al Jaber reiterated that the success of COP28 is a national responsibility and extended an open invitation to government and private sectors as well as all segments of society to come together in solidarity to host a successful and inclusive global event.

He called on all parties to coordinate in this national event to ensure an exceptional and successful conference.

COP OUT DIRTY DOZEN - IN ORDER OF CO2, METHANE GLOBAL % VOLUME & COAL FIRED INSANITY
Chinese President

Xi Jinping

US President

Joe Biden

EU President

Ursula von der Leyen

Indian PM (Russian Ally?)

Narendra Modi

Vladimir Putin (War Criminal)

Russian PM

Japanese PM

Fumio Kishida

Han Duck-soo

South Korean PM

Mohammed bin Salman

Saudi Arabian Crown Prince

Justin Trudeau

Canadian PM

Luiz Inácio Lula da Silva

Brazilian PM

Joko Widodo

Indonesian President

Anthony Albanese

Australian PM
1995 COP 1, BERLIN, GERMANY
1996 COP 2, GENEVA, SWITZERLAND
1997 COP 3, KYOTO, JAPAN
1998 COP 4, BUENOS AIRES, ARGENTINA
1999 COP 5, BONN, GERMANY
2000:COP 6, THE HAGUE, NETHERLANDS
2001 COP 7, MARRAKECH, MOROCCO
2002 COP 8, NEW DELHI, INDIA
2003 COP 9, MILAN, ITALY
2004 COP 10, BUENOS AIRES, ARGENTINA
2005 COP 11/CMP 1, MONTREAL, CANADA
2006 COP 12/CMP 2, NAIROBI, KENYA
2007 COP 13/CMP 3, BALI, INDONESIA
2008 COP 14/CMP 4, POZNAN, POLAND
2009 COP 15/CMP 5, COPENHAGEN, DENMARK
2010 COP 16/CMP 6, CANCUN, MEXICO
2011 COP 17/CMP 7, DURBAN, SOUTH AFRICA
2012 COP 18/CMP 8, DOHA, QATAR
2013 COP 19/CMP 9, WARSAW, POLAND
2014 COP 20/CMP 10, LIMA, PERU
2015 COP 21/CMP 11, Paris, France
2016 COP 22/CMP 12/CMA 1, Marrakech, Morocco
2017 COP 23/CMP 13/CMA 2, Bonn, Germany
2018 COP 24/CMP 14/CMA 3, Katowice, Poland
2019 COP 25/CMP 15/CMA 4, Santiago, Chile
2020 COP 26/CMP 16/CMA 5, Glasgow, Scotland
2021 COP 26/ Glasgow, Scotland 1-12 November
2022 COP 27/ Sharm El-Sheikh, Egypt, 6-18 November
2023 COP 28/ Expo City, Dubai, UAE, 30 Nov - 12 Dec
DESERTIFICATION COP HISTORY
| | |
| --- | --- |
| COP 1: Rome, Italy, 29 Sept to 10 Oct 1997 | COP 9: Buenos Aires, Argentina, 21 Sept to 2 Oct 2009 |
| COP 2: Dakar, Senegal, 30 Nov to 11 Dec 1998 | COP 10: Changwon, South Korea, 10 to 20 Oct 2011 |
| COP 3: Recife, Brazil, 15 to 26 Nov 1999 | COP 11: Windhoek, Namibia, 16 to 27 Sept 2013 |
| COP 4: Bonn, Germany, 11 to 22 Dec 2000 | COP 12: Ankara, Turkey, 12 to 23 Oct 2015 |
| COP 5: Geneva, Switzerland, 1 to 12 Oct 2001 | COP 13: Ordos City, China, 6 to 16 Sept 2017 |
| COP 6: Havana, Cuba, 25 August to 5 Sept 2003 | COP 14: New Delhi, India, 2 to 13 Sept 2019 |
| COP 7: Nairobi, Kenya, 17 to 28 Oct 2005 | COP 15: 2020 |
| COP 8: Madrid, Spain, 3 to 14 Sept 2007 | COP 16: 2021 |
BIODIVERSITY COP HISTORY
| | |
| --- | --- |
| COP 1: 1994 Nassau, Bahamas, Nov & Dec | COP 8: 2006 Curitiba, Brazil, 8 Mar |
| COP 2: 1995 Jakarta, Indonesia, Nov | COP 9: 2008 Bonn, Germany, May |
| COP 3: 1996 Buenos Aires, Argentina, Nov | COP 10: 2010 Nagoya, Japan, Oct |
| COP 4: 1998 Bratislava, Slovakia, May | COP 11: 2012 Hyderabad, India |
| EXCOP: 1999 Cartagena, Colombia, Feb | COP 12: 2014 Pyeongchang, Republic of Korea, Oct |
| COP 5: 2000 Nairobi, Kenya, May | COP 13: 2016 Cancun, Mexico, 2 to 17 Dec |
| COP 6: 2002 The Hague, Netherlands, April | COP 14: 2018 Sharm El-Sheikh, Egypt, 17 to 29 Nov |
| COP 7: 2004 Kuala Lumpur, Malaysia, Feb | COP 15: 2020 Kunming, Yunnan, China |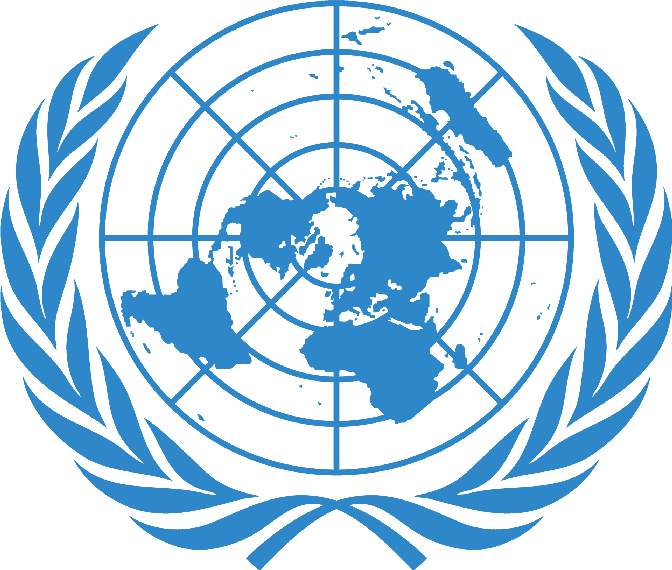 CONTACTS
Floor 3
2 America Square,
London EC3N 2LU
United Kingdom

TEL: +44 (0)20 7871 0173
FAX: +44 (0)20 7871 0101

https://www.mofaic.gov.ae/en/mediahub/news/2022/11/23/23-11-2022-uae-cop28
info@climateactionprogramme.org
https://www.energyconnects.com/opinion/features/2023/january/dr-sultan-al-jaber-appointed-cop28-uae-president-designate/
https://carsandyachts.com/trending/40-of-the-most-bizarre-things-you-would-only-ever-find-in-the-emirate-of-dubai-story
http://www.climateactionprogramme.org